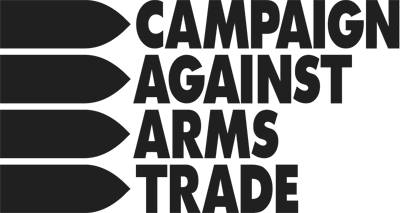 CAAT. The arms fair: where war, crisis and repression begin…
In just a matter of weeks 'Defence & Security Equipment International' (DSEI), the world's largest arms fair, will once again descend on London. There, in our capital city and with the support of our government, huge quantities of lethal weaponry will be exhibited for sale. Once sold, those weapons make possible the next war, the next humanitarian crisis or the next act of repression. And their effects will be felt the world over as people are killed, maimed and tyrannised.
The arms fair will bring together representatives of over 1000 of the world's arms manufacturers with military delegations from across the globe. At the last DSEI in 2013, the UK government invited 14 authoritarian regimes, and 9 of the countries that the Foreign Office has identified as having the most serious human rights concerns.
Building the pressure
When we work together we can have real impact on the arms trade. At DSEI 2013, we organised large-scale direct action which blocked deliveries of weapons and potential buyers from entering. We also locked down the offices of massive arms company Lockheed Martin and disrupted two arms dealers' dinners. Following coordinated action to challenge the 'Defence, Procurement, Research, Technology and Exportability' (DPRTE) arms fair, formerly held in Bristol, it was forced to move location in 2014 and will not go ahead this year. Over in Australia, following a massive public campaign in 2008, campaigners have managed to permanently stop the national equivalent of DSEI, proving that public pressure really can have a long-term impact.
Please donate today and join us in challenging the arms fair.
It starts here… will you help us stop it?
As it draws closer, we are doing everything we can to make this year's DSEI the last. We are putting on events all over the country to raise awareness and empower ordinary people to take action against the arms fair. During the set up of DSEI itself, we will organise a massive week of action, bringing together activist groups, from the local to the international, to stand together against the arms dealers. Looking longer-term, we are producing ground-breaking research exposing the UK's role in arming violent and repressive states, building high-profile support for our campaign and ultimately changing the terms of the debate on arms exports.
Please donate to CAAT and to help support this vital action against the arms trade:
www.caat.org.uk/support-our-work/donate
CAAT is the only single-issue UK organisation working to put an end to the deadly arms trade. We pride ourselves on being grassroots, independent and politically focused in our campaigning. It's only thanks to individual supporters like you that we can continue to take effective action. In the run up to DSEI, and beyond, we need your support if we are to make a lasting impact.
Please click here to make a one off donation or here to set up a Direct Debit. All donations we receive make us more effective in our work challenging the arms trade.