About Us
The National Justice and Peace Network (NJPN) welcomes all who share a vision of a world in which people live in peace and harmony, where our common humanity is respected and all are able to contribute freely to the common good.
Key issues of concern:
Movement of people
Environment
Peace
Poverty and inequality
To find out more about justice and peace, please download and share our information leaflet.
NJPN seeks to encourage work for justice and peace by promoting communication and shared action between members, supporters and partners.
The Network was started in 1978 and has organised annual weekend conferences since that date. Regular communication is maintained through open networking meetings, email bulletins, the newsletter and information circulated from our working parties. This work is facilitated by the NJPN Administrator.
Membership is open to groups and individuals of all faiths and none, who share the vision, mission and values of the network. It is based in England and Wales.
Click here for membership form
NJPN membership currently includes representatives from diocesan justice and peace commissions or groups, religious and missionary orders with a special calling for justice and peace work, agencies and organisations engaged in work for peace and social justice, representatives of the Catholic Bishops' Conference of England and Wales, local J&P groups as well as individuals.
While the ethos of the network is strongly rooted in Catholic Social Teaching, many J&P groups around the country work ecumenically and others with inter-faith partners.
Most Catholic dioceses have Commissions or Coordinating Committees furthering justice and peace work in their diocese and a number have dedicated fieldworkers.
Much of the work of the Network links into the campaigns organised by affiliated agencies. As well as working on global issues like the cancellation of third world debt, groups and commissions around the country are involved in national and local issues: poverty, inequality, credit unions, housing and homelessness, supporting refugees and asylum seekers, environmental issues etc.
For latest updates, please check our NEWS and DIARY pages
(Please note: the views expressed through the news and diary pages do not necessarily reflect those of NJPN)
NJPN is not responsible for the content of external websites.
Vision, Mission and Values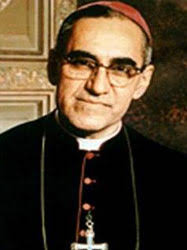 Vision: the National Justice and Peace Network, enlightened by the Gospel vision of God's Kingdom and the example of St. Oscar Romero our Patron Saint, seeks a world in which:
there is respect for the integrity of the whole of creation and for the dignity and freedom of every human being
people living at peace seeking non-violent ways of resolving conflict
nuclear weapons and the arms trade have no place
all have access to food, clean water, shelter, health, education and a livelihood
there is justice for those who at present have no land, are in debt or are enslaved by their work
development and the use of resources are sustainable
The Mission
of the Network is to collaborate with all people of goodwill who share our aims and values, working to bring the good news of Christ's love and peace to people who are poor, oppressed or excluded:
inspiring them through prayer, celebration and a spirituality that informs their whole lives
sustaining each other in prophetic witness and in working for change
raising awareness of J&P as central to the life of the Church
networking and communicating effectively
facilitating training, workshops and conferences
seeking collaboration over resources, ideas and good practice
Based on the Scriptures – and in particular on the life and teaching of Jesus Christ, on the Church's Social Teaching and on our own faith experience, the Values that inspire us are:
wonder at God's Spirit throughout creation and in every human being
love, hope and compassion
mercy and forgiveness
solidarity and subsidiarity
partnership and dialogue
care for the whole of creation
simplicity and sustainability of lifestyle