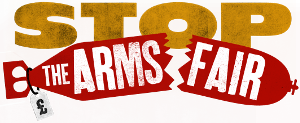 *** NJPN Action of the Week *** Campaign Against Arms Trade: Stopping the London Arms Fair
On 12 September, the international weapons industry plans to set up shop in London at a huge arms fair, DSEI.

With your help, we can stop it.

DSEI is one of the world's largest arms fairs. The weapons sold here fuel the death, destruction and injustice perpetrated by militaries, police forces and at borders around the world.

Join us in calling for it to be shut down.

This is where war, repression and injustice start. But this is also where we can intervene to stop it.

In 2015, hundreds of people took part in a huge week of action – the biggest-ever protests against DSEI. For six days we blocked entrances, disrupting the set-up of the fair. 2017 is set to be even bigger.

Join actions at the gates of the arms fair every day from 4-11 September, stopping the arms fair before it starts. Find them all at: stopthearmsfair.org.uk.

Can't make it in person?

If you can't be there in person, you can still help make sure the opposition is the biggest ever.

Show how big the resistance is: sign and share the petition
Spread the word: Share this video with friends to help mobilise
Follow and share the action by following #StopDSEI and CAAT on Facebook and Twitterfor the latest updates
Find more ways to get involved at stopthearmsfair.org.uk

Let's stop the arms fair!