Meetings
Members of NJPN facilitate four meetings each year. These events are open meetings and if you are concerned about peace and social justice and the riches of Catholic Social Teaching you will receive a warm welcome.
Alternate meetings are held at venues outside London to enable as many people as possible to engage and share concerns and suggestions for practical action.
Dates and Places of Future Network meetings
Saturday 16 November 2019
10.30am – 400pm
CAFOD, Romero House, 55 Westminster Bridge Road, London, SE1 7JB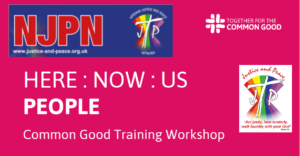 The day will consist of a one day workshop with teaching, prayer, activities, discussion,networking and sharing lunch (please bring items to share). Organised and hosted NJPN, as a free workshop, contributions towards the costs and workbooks are welcome.
Led by 2 experienced Here: Now: Us Facilitators, the workshop brings together a unique combination of components suitable for Christians of all traditions and explores six core themes in a full and stimulating day of teaching, prayer, activities, discussion, networking and lunch
• Common Good Principles and how to put them into practice
• What's going on? The causes of social division and how to address them
• A Christian understanding of the Common Good
• Civil society institutions and the role of the Church
• Vocational responsibility
• Working together with Christians from different traditions and viewpoints
The day is for 2 groups of 20 people drawn from different aspects of Justice & Peace work, therefore registration via Eventbrite is essential.
See link below:
https://www.eventbrite.com/e/njpn-networking-meeting-here-now-us-common-good-training-workshop-tickets-75681747143
Previous NJPN Meetings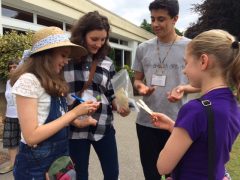 NJPN Annual General Meeting and Open Networking Day took place on Saturday 11 May 2019 at Westminster Cathedral RC Primary read more