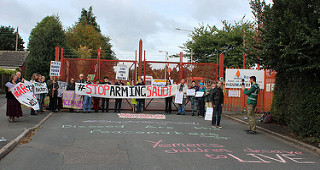 Christians Pray for Peace at Missile Factory
A group of Christian pacifists are holding a prayer vigil at a Midlands-based factory, whose engine parts could be being used in the bombing of Yemen by Saudi Arabia.
Midlands Christian Action (MiChA) brought together around 30 people outside the Roxel factory near Kidderminster to protest and pray for the company to stop manufacturing engines for Brimstone and Stormshadow missiles. In the past 5 years the UK has exported around £180m worth of these missiles to Saudi Arabia, which since March 2015 has been engaged in a bombing campaign against Yemen that has resulted in the deaths of more than 3,200 civilians.
The group, which involves Christians of different denominations, including Methodists, Catholics, Quakers and others, seeks to work for peace and justice for the whole of humanity, inspired by their faith.
Fr Martin Newell, a Catholic priest said:
"We believe we are called to speak out against the choice to profit from human suffering through the arms industry; an industry which perpetuates a spiral of aggression and injustice which is contrary to our faith in a loving and life-giving God.
The scenes of devastation that have been documented in Yemen are appalling to people of any faith or none, and we cannot stand by whist a company on our doorstep is contributing to these horrifying events."
This is the second time that activities at the controversial factory have been questioned in recent months. In April, protesters attempted to carry out a weapons inspection at the site, to ascertain whether parts built at this factory might be used in Yemen by the Saudi military.
One of the activists present in April, Nicholas Cooper said:
"As the Saudi-led coalition continue to commit war crimes against Yemeni citizens, including the bombing of a school bus in Dahyan which killed 40 children, Roxel seem only to be concerned about their image. In spite of assurances that they would engage in dialogue Roxel have ignored our letters and requests for meetings, and have instead sent letters to local residents warning them that our prayer service (at the end of a cul-de-sac) might cause disruption. They also have a swanky new website that tries to emphasise their ethics."
The prayer vigil took place on the morning of 10th September 2018, with participants contributing prayers and hymns for peace from different traditions. MiChA hope that by continuing to shine a light on the secretive activities at Roxel, the human cost of the weapons made there can be more widely known.
Contact: micha@peacehub.org.uk
Tel: 07553927060