MEMBERSHIP OF NJPN
We invite you to have a greater involvement in the National Justice & Peace Network. Consider becoming a member of NJPN; joining our Email Group and receiving our Newsletter. The suggested minimum donation is £25 with a low income option of £15. All that you donate may be Gift Aided. If you opt to donate by Standing Order you can spread your payment monthly, quarterly or annually.
Complete the form and post to NJPN, 39 Eccleston Square, London SW1V 1BX
NJPN Membership for Groups
Did you know that membership of NJPN is open to local groups as well as individuals? NJPN is a grassroots organisation, so we want to support people working for justice, peace or care of creation whether in their parish or local community. Membership of NJPN links you to a wider network, providing opportunities to meet with others for mutual support, to share ideas and experience, hear inspirational speakers and be kept up to date with campaigns of national agencies. It also supports the work of NJPN so we can keep providing those opportunities.
We now have an application form for local groups available from the Membership Support Co-ordinator at membership@justice-and-peace.org.uk or contact the office (or download from the website).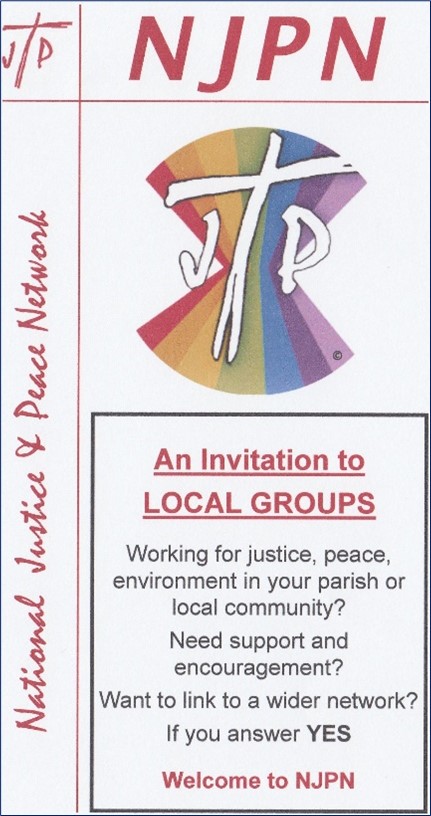 DONATE ONLINE: Or Click here
LEGACIES
If you would like the work of NJPN to live on after you die, please consider leaving a legacy to National Justice & Peace Network.
You could leave
– A pecuniary legacy (a gift of a fixed sum of money) to a named organisation.
– A residual legacy
– the residue of your estate after all bequests have been made.
A codicil can be added to an existing will.