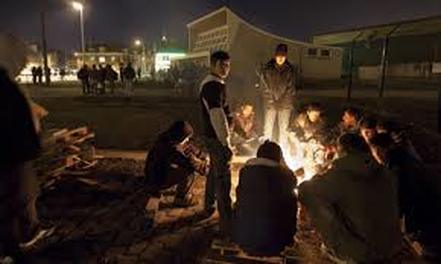 CALAIS: Closure Looms – Our Christmas Appeal and Calls for Action
LATEST NEWS from Seeking Sanctuary
The main informal ("Jungle") camp is now scheduled to be removed during October, but the people will still be in need somewhere in France. In addition, about 2000 may remain for a while in official shelters in Calais and certainly about 1500 more in the Grande Synthe camp near Dunkirk, not to mention those who "fade away" locally.
It's going to be a tough and emotional few weeks: so we all need to pull together to make sure we get huge amounts of aid ready to help people as they move to official dispersal centres or to informal squats and small local camps. We need to remember that these could well be in isolated places which will be hard to reach for volunteers and NGOs.
At the moment we can only guess at who will go where and what they will need, but people on the ground are making educated guesses and more news will arrive in the coming weeks. At the moment, warm sleeping bags are a priority because some folk are already leaving, intending to sleep rough in the area from Calais to the Belgian border. You can buy them here for free delivery to Calais: or collect or buy yourself and send them across. Rucksacks, wheeled suitcases and tents (portable, but warm) are also a top priority. Pots and pans will also be appreciated, so that people are able to cook their own food when scarce resources permit. (And the usual items of clothing, food and equipment are still needed while "business as usual" continues.)
CHRISTMAS APPEAL
At Christmas many will want to support the Calais migrants, wherever they are dispersed to. We plan to repeat last year's initiative – 'Little bags of love and hope'. Typical contents should include some of the following (suitable for the young men): a wind-up torch (or torch plus spare batteries), deodorant, scarf, hat, gloves (fabric or leather – not knitted) and a small pack of nuts or dried fruit. If your parish or community would like to take part, please let us know by emailing migrantsupport@aol.com or calling 07887 651117 .
Please don't send unhealthy sweets; and don't use Christmas wrapping or mention the Christian festival in greetings – most recipients will be Muslim, just make things generically festive, perhaps expressing hope for better times in 2017. Gifts for Northern France should be mainly for teenage-to-twenties young men, so please don't include teddy bears and cosmetics! Despite the "bags" in the title, you can pack in boxes, bags or parcels, as is most convenient. Keep your words simple, as few recipients will be accustomed to reading our Western alphabet.
We also intend to have a Christmas card ready shortly, featuring a beautiful picture of the Madonna and Child painted earlier this year by an Eritrean artist in the jungle (attached). All proceeds will be for the Calais appeal and the maintenance of the Eritrean Church. Please let us know if you are interested in these – and we will send you further details when they are available. The price will be £3.50 for ten cards, plus postage.
ACTION
We've added a list of some current relevant petitions to the website, along with a report on an interview on Premier Radio – and, moreover, we attach the excellent detailed proposals from Citizens-UK about working for the rapid safe transfer to the UK of vulnerable unaccompanied children and young people.
With renewed thanks for all your help. Do keep up your interest and commitment to the cause.
Phil + Ben.
About 'Seeking Sanctuary'. There are now over 10,000 migrants in and around Calais (September 2016) and many more near Dunkirk . 'Seeking Sanctuary' aims to raise awareness about this situation and is organising basic humanitarian assistance through Faith Communities and Community Organisations in partnership with experienced aid workers.
For further information on how you or your organisation can help, contact Ben Bano on 07887 651117 or Phil Kerton on 01474 873802. For the latest news: check our web site