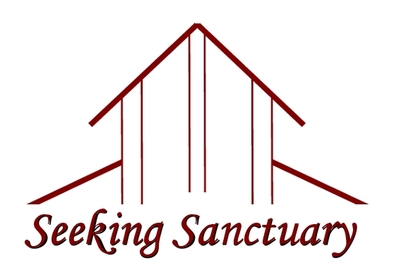 January Update from 'Seeking Sanctuary'.
Dear Friends
Our update arrives rather later (and longer) than usual, partly because we have both been somewhat overwhelmed by requests from domestic and foreign media, both TV, radio and press, about the recent upsurge in perilous small boat crossings of the English Channel.
CURRENT EVENTS
Our role of correcting misinformation and presenting the complete picture of the current situation is more important than ever. We have all been scandalised by the comments of the Home Secretary that those who arrive by boat across the channel would have their asylum cases considered less favourably, and also queried why anyone would want to leave France even though the conditions there are worse than ever – with those who try to find shelter finding their tents torn down by the police within hours and their few possessions taken away. Like his predecessors, he seems not to have taken the trouble to consult neutral observers on the ground, preferring to take third-hand reports from officials at face value.
You will find details of how to contact him at the end of this update. We have tried to downplay the notion of a 'crisis – the few people making it across the Channel are nothing compared to the 400,000 who have arrived in Lampedusa over the past 20 years.
SHELTER IN DUNKIRK
From Dunkirk comes the welcome news that the Mayor – Damien Carême – has once again organised some shelter for the most vulnerable exiles during the cold conditions. This contrasts with the situation in Calais where no shelter is provided until temperatures drop sufficiently low for enough hours to trigger the town council's legal obligation to provide shelter for the all who are in need.
SWITZERLAND
Our update continues not in Northern France but in Switzerland, as we remind ourselves of the many challenges as well as traumas faced by those seeking sanctuary before they even get into France.
A 72 year old lady, Anni Lanz, was found guilty of assisting a young Afghan man to cross from Italy into Switzerland so that she could offer him a temporary home. He has already been 'Dublined' back to Italy in spite of a medical recommendation that he be allowed to stay in Switzerland because of the trauma he had experienced on learning that his wife and young family had been killed in Afghanistan. And in Italy he discovered the harsh reality of the hostile environment of the new Italian government when he found that he was not eligible for a place in a shelter for vulnerable people and so had to sleep outside in freezing temperatures. Anni Lutz was arrested as she met him at the frontier station of Domodossola and was later given a heavy fine at a court hearing.
We must not underestimate the effects of the brutal nature of the new Italian policies and given that thousands of asylum seekers are 'Dublined' to Italy each month, the prospects for those seeking sanctuary seem bleaker than ever – hostile environments are spreading across Europe.
DOVER MEMORIAL
Closer to home, some 40 people, including several local mayors, braved the rain and the wind in the afternoon of 15th December on Dover seafront to attend the inauguration of a new memorial to the over 200 people who have died in the last 20 years in attempts to reach and cross the Channel to seek sanctuary in the UK. The service was led by the Bishop of Dover, the Right Rev. Trevor Willmott, assisted by the Parish Priest of the Good Shepherd Parish in Dover, Fr Jeff Cridland. A slightly extended account was posted to our website on 17 December, along with some photographs. We are grateful for the donations that have covered all of the expenses involved in setting up this memorial.
SOME REPORTS
Another addition to the website is a full report on the Day of Solidarity that took place on October 20 in Dover, which can be found here , in English – or here , in French.
At the start of December a consortium of groups issued a report on the findings of a year-long record of monitoring and documenting human rights violations of displaced people and aid workers in Calais. This shows that between November 2017 and November 2018 French police carried out 393 separate camp evictions against refugees in the port area. Typically, a raid is carried out by more than 50 police, some armed with assault rifles and tear gas grenade launchers, who force dozens of people to drop their belongings and leave the wasteland that some have called their home for months. This repeated destruction of camps has forced many of the exiles – largely Afghan, Eritrean or Sudanese men aged between 18 and 25 alongside a smaller population of Iranians – to sleep without shelter in woods or beneath motorway bridges on the outskirts of the town.
It is the first time that levels of violence and harassment by the French authorities against refugees have been documented in detail over a sustained period. The five camps then established in the Calais area had been levelled four times each per week, a policy that also inflicts profound psychological damage on the occupants. People are forced to to be constantly on the move. Tents used to last for six months, but they now last barely six days. The writers say that there is an incredibly hostile environment, with conditions the worst that they have ever been.
A police spokesperson has stated that: "Since the dismantling of the Lande de Calais camp, the objective of the public authorities has been to avoid the formation of new shanty towns in Calais, which would put migrants in inhumane conditions. The objective is also to preserve order and public security both for the people of Calais and the migrants themselves, particularly with regard to smugglers. Operations to remove illegal camps are regularly carried out to remove the makeshift shelters discovered in Calais, in respect of the rights of migrants and police ethics."
ACCOMMODATION CENTRES
Meanwhile the majority of families from the Dunkirk area had moved to accommodation centres set up by the national government all over Northern France, a system that started in 2007. On most days buses take people from informal camps to accommodation centres where shelter is provided for one month – or longer, if they apply for asylum.
Centre management has been outsourced and living conditions, duration of stay, location, and access to information differ widely from one to another. Some are former hotels, others are flats completely spread across a few buildings, one is an annex to a church, another is a building in a medical compound awaiting demolition. There are many sizes and styles, some more comfortable than others. Mostly, they are in rural places, but some live in the middle of a city and others by the motorway where there's no phone signal.
Refugee Rights Europe members returned to Calais to speak to displaced individuals and to record the ongoing human rights failures unfolding in the area. After decades of encampments and evictions, and two years on from the demolition of the Calais 'Jungle' camp, it is evident that approach tried so far by the state is simply not working. The report lists conditions that are characterised by precariouness, rough-sleeping and dangerous border-crossings, with aid organisations working relentlessly to fill gaps left by the authorities during the freezing winter months.
A volunteerwith a first-aid charity reported that people without families had been scattered, with the lucky ones sleeping in abandoned buildings, the unlucky ones on the street or under bridges. Injuries include festering wounds in hands and feet, broken bones, infected blisters, eye infections, scabies, and more.
SMALL BOATS
Responding to questions from Church Times about the recent upturn in numbers of small boats bringing people on perilous journeys across the Channel, Canon Kirrilee Reid, the recently-appointed Anglican chaplain in Calais joined others in saying that: "The terms 'Migrant crisis' and 'major incident' are unhelpful. This situation is not new. There have been dangerous crossings for years. Many have died trying to cross the Channel by train, boat and lorry. There has been an increase in those attempting to cross the English Channel by boat in recent weeks, and this is dangerous, but, sadly, indicative of the plight of desperate people."
"Pushing the problem back to France is not the solution," she said. "The more difficult it is for those seeking asylum to make the crossing, the more smugglers will thrive. In Calais, migrants are pushed into the hands of smugglers or traffickers because they are so desperate. Entering the UK legally from Calais is almost impossible. Many asylum-seekers do not believe that they have a future in France. They are not confident asking for asylum. They do not feel welcome in Calais. There is a large police presence here. Some report experiences of police aggression. As many as three times a week, their makeshift camps are currently being dismantled and possessions confiscated. There is a perception that the British system is more just. Many have family, friends and community members in the UK already and understandably want to join them."
A Sky News report on interviews with young exiles in Calais and in Britain concluded that: "The young people we met were evidence that with help they can become productive members of society. Some now work in social care, others are looking to set up businesses. Everyone we met had enormous gratitude to the UK. They are all survivors, and that seems to translate into strong ambitions to make their lives here a success".
We are disturbed both by the style of comments made by our Home Secretary and their content. He appears to be ignorant of the UK's obligations as a signatory to the 1951 UN Convention Relating to the Status of Refugees to ensure that requests for asylum are treated fairly and systematically and that no penalties are imposed upon those who enter illegally in search of asylum, provided that they present themselves without delay.
APPEALS
As ever, there are appeals for warm clothes and bedding as well as comfort items to mark the arrival of the New Year. We will post links to all these on our website during the current week. Please share these and also consider visiting Northern France, to bear witness and to bring your support! Long term volunteers are needed who can commit to more than one month, as well as people who can make shorter visits, hopefully on a regular basis.
UNACCOMPANIED MINORS
A few days before Christmas the Home Office finally agreed to remove the January 2018 cut-off date for the arrival of young people in Europe for them to be eligible to take up some of the 250+ "Dubs" places still unfilled. The Calais Refugee Youth Service knows of at least 45 children aged 15 and under who are now eligible for consideration – not to mention 30 who have already been approved but who are waiting to be offered a place because those offered two years ago have since been used for other cases by many Councils. Safe Passage asks people to contact their MPs to request that they persuade Councils to renew their offers. They provide a template form for you to easily take action.
UN GLOBAL COMPACTS
December 18 was International Migrants' Day, key to a season when Global Compacts on Refugees and on Migration were adopted by the UN General Assembly. These are frameworks that cover all dimensions of international migration and so can serve as a basis for future joint action among nations .The documents both reaffirm the sovereign right of states to determine their national migration policies, and emphasise the fact that all migrants are entitled to universal human rights, while also aspiring to eliminate all forms of discrimination, including racism, xenophobia and intolerance against migrants and their families.
Some of the objectives and policy recommendations aim to:
gather better data on international migration
minimise factors that compel people to leave their own country
provide migrants with a proof of legal identity
reduce vulnerabilities in migration, including "the conditions they face in countries of origin, transit and destination"
combat smuggling and people trafficking.
PROTEST
Do you want to challenge the cultures of fear, prejudice, self-interest and scapegoating of immigrants prevalent within today's society? And call upon the government to have a change of heart and extend a true welcome to strangers in need, offering them human dignity? One possibility in London is to join a weekly lunchtime vigil outside the Home Office organised by the London Catholic Worker. This starts at 12.30 pm every Tuesday outside the Home Office at 2 Marsham Street, Westminster SW1P 4DF. (Nearest Tubes: Westminster, St James' Park, Victoria.)
How to contact the Home Secretary and make your views known
Write:
Rt Hon Sajid Javid MP, Home Office, 2 Marsham Street, London, SW1P 4DF –
or use the email address privateoffice.external@homeoffice.gsi.gov.uk
Comment on Social Media:
Website: www.sajidjavid.com (includes a contact form to send messages)
Twitter: @sajidjavid
Facebook: www.facebook.com/sajidjavidbromsgrove/
Instagram: www.instagram.com/sajidjavidmp/
YouTube: www.youtube.com/channel/UCEHuz0MwYQKdVn2NX_lYd1A
With best wishes for 2019,
Ben + Phil.
'Seeking Sanctuary' aims to raise awareness about people displaced from their homes and to channel basic humanitarian assistance from Faith Communities and Community Organisations via partnerships with experienced aid workers. Our special concern is for the 1000 or so exiles who are stuck north-western France, mistakenly expecting a welcome in the UK.
They need food, water, good counsel and clothes, which are accepted, sorted and distributed by several organisations, including two Calais warehouses which also supply needs further afield.
If you have not already confirmed your agreement to receive our monthly email updates after 25 May 2018 (and occasional urgent action news), please use this link to do so via our web page – you can unsubscribe at any time by sending us an email.
Further information from Ben Bano on 07887 651117 or Phil Kerton on 01474 873802. See our latest news at www.seekingsanctuary.weebly.com