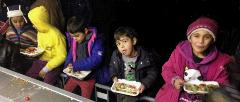 Appeal from Seeking Sanctuary: volunteers urgently needed in Calais
Phil visited Calais on 30 May, taking clothing, cash and bedding donated by various groups and individuals. He found a situation that was superficially calm, yet worrying: worries that have since been confirmed as correct
More volunteers with jobs in education can turn up during school holidays and various busy groups of volunteers are now using corners of the warehouse run by "Help Refugees" on behalf of l'Auberge des Migrants, so bringing back an air of bustle and energy rarely seen since the autumn demolition of the "Jungle". In reality more volunteers and donations are needed as the local migrant population increases and official harassment becomes more evident.
The Refugee Community Kitchen was running at high capacity serving 1300 people a day at 4 different distributions points, made up of lunch and dinner in Calais for 550 souls; dinner in Dunkirk for 200 souls; plus 600 lunch and night-time food boxes for new arrivals and the most vulnerable, not to mention making flapjacks for partners who care for the souls in Paris, and providing 1000 litres of clean water per service in Calais. Volunteers chop, stir, wash, pack, drive, serve and then come back and do it all over again many times a day, 7 days a week with never ending enthusiasm and smiles.
The kitchen needs help more than ever: please pass on the news that people can get a volunteer pack about how to come to the kitchen, where to stay in Calais, and much more, by sending an email to refugeecommunitykitchen@gmail.com – or money can be donated on-line via the linkhttps://mydonate.bt.com/donation/start.html?charity=147727.
CALAIS – THE DEVELOPING SITUATION
Travelling around the town, small groups of young migrants can be seen, with increased visibility due to the fresh increase in numbers since the start of the year. The same is true for the imported national police from the Compagnie Républicaine de Securité in full riot gear with helmets, shields, batons and automatic weapons, usually sporting sunglasses and moving with a pronounced swagger.
The former "jungle" has been razed to the ground – a wilderness waiting for the return of the particular flora and fauna that can survive on the exposed surfaces of the decaying sand dunes. Human beings have been returning for months, joined by new arrivals, but this territory is forbidden to them. Some are sheltered by local families, but with a ban on building shelters or erecting tents, hundreds sleep rough in patches of woodland in the adjoining industrial estate and in a few other locations close to lorry parks and motorway slip roads. Aid workers agree that there are around 1000 in and around the town and almost as many more scattered along the coast and in villages and countryside near main roads and motorways.
Newcomers – with a significant proportion of youngsters – arrive exhausted, unwashed, dressed in tatters, malnourished and frequently suffering from various maladies, particularly scabies and chronic fungal foot infestations. Despite the lack of sustained UK media coverage, the need for humanitarian aid has risen, especially as the Calais warehouses now additionally supply many distant locations. Volunteers do not have to be young enough and fit enough to sign up to work for long hours without a break for many days on end, as some volunteers have found at new projects in Greece. What is important is that they can promise to attend regularly and fit in to a regular routine. Sleeping bags and blankets are confiscated by police and sprayed with pepper to render them useless, bringing warehouse stocks down to zero.
But the apparently peaceful afternoon scene appeared fragile, as has since been confirmed.
The day after Phil's visit CRS police told volunteers that the distribution of clothes, food and water was forbidden, save between limited hours and to limited numbers of recipients. No written Instruction was produced, but large numbers of police have turned up to block every distribution. The experienced volunteers who go out to distribute aid are being physically and verbally attacked and treated like criminals. Associations have prepared these volunteers to be ready to perhaps end up in police custody just for handing out food and water to those in need. Some officials have said that all activities that generate crowds of people are forbidden under the long-standing state of emergency, especially as they may hinder traffic flow – and this typically down broad and quiet cul de sacs adequately designed to allow access for heavy vehicles to light industrial and commercial premises .
CHILDREN IN PERIL
On top of such recent (almost) local experiences, our concern for lone migrant children continues. And these can be found in very many places – a thousand in France alone. We suggest that you and others may light a candle to remember a child victim seeking sanctuary. More than that, anyone with young relatives who may be fleeing countries producing migrants needs to know about the work of "Safe Passage" – www.safepassage.org.uk.
This organisation, set up by Citizens-UK, works to help children and vulnerable adults who are alone and searching for asylum get access to safe legal routes to the UK. They have already reunited hundreds with their families in the UK and are working hard to help the many more who have reached Europe and still seek asylum either to join relatives or through their vulnerable condition. They are currently assembling lists of individuals with a right to be helped and asking courts of law to insist that our government lives up to its obligations to help them. Details of relevant cases should be passed on to George Gabriel, who leads this project. His office phone number is 020 7112 4984, or he can be emailed at george.gabriel@safepassage.org.uk and he can also supply information to be distributed to locations where it may be seen by relatives who may benefit from it.
In the wake of the Manchester and London terrorist attacks when so many young lives were lost in a heartless atrocity, it is not surprising that the nation's mood is sombre. It is of some consolation that the solidarity from so many people and organisations across the UK and beyond has been so clearly manifested.
At Seeking Sanctuary our thoughts also turn to all those those child victims who have lost their lives during journeys at sea, and by road, air and rail, in a desperate struggle to find sanctuary. The UN estimates that at least 500 children lost their lives at sea last year and there were further victims in recent weeks when grossly overloaded small boats capsized.
Who will be there to mourn and grieve for these children? Who will hold a prayer vigil for them? Their parents may well have lost their lives or lost contact with their children having committed their life savings to people smugglers in vain attempts to get their children to safety. Or the members of their extended family journeying with them may have lost their lives as well. And their plight does not make the headlines – pitiful pictures of them struggling in the sea are no longer thought to be newsworthy….
And so, we ask our supporters to remember and mourn for them – by lighting candles or perhaps remembering them in intentions and by highlighting their plight to help to bring an end to this modern day scandal. And here at 'Seeking Sanctuary' we will be expanding our area of concern, not forgetting the plight of the abandoned migrants in and around Calais, but also trying where possible to highlight the wider picture in a world in which it is increasingly difficult to seek and find sanctuary.
This is reflected in our updated "sign-off" paragraph below and in our intention to produce some relevant prayer cards to make a wider group of people aware of the dire conditions in which so many migrants survive. We need to get an idea of how many cards to produce, so please do let us know if you may like to acquire a quantity to pass on to others.
Phil + Ben.
'Seeking Sanctuary' aims to raise awareness about people displaced from their homes and to channel basic humanitarian assistance from Faith Communities and Community Organisations via partnerships with experienced aid workers. Our special concern is for those who arrive in north-western France, mistakenly expecting a welcome in the UK. Almost all the 8,000+ migrants in Calais in October 2016 were moved away, hopefully to better accommodation. 1616 unaccompanied minors also leftalong with hundreds of vulnerable women and children, hoping that claims to stay in the UK or France would be processed. Many judge that they have been let down, and hundreds have returned to sleep rough near Calais and along the coast. The Grande-Synthe camp near Dunkirk burnt down in April 2017, displacing around 1400 people, over 950 of them moved elsewhere, whilst the rest remain nearby, joined by scores of newcomers weekly.
They need food, good counsel and clothes, which are accepted, sorted and distributed by several Calais warehouses, which also supply needs further afield.
Further information from Ben Bano on 07887 651117 or Phil Kerton on 01474 873802.
See latest news from Seeking sanctuary