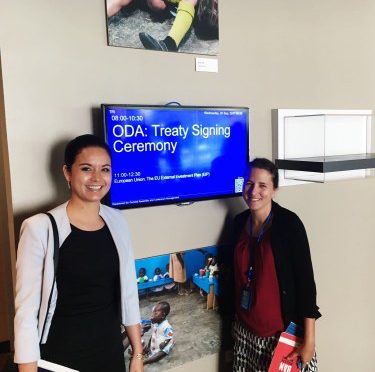 WCC News: Dozens of countries sign nuclear weapons ban treaty
On 20 September at the United Nations in New York, a treaty to ban nuclear weapons was formally opened for signature. At the time of writing, some 49 states have signed.
This historic new treaty, the text of which adopted in July by two-thirds of the 193 UN member states after months of talks, bans the manufacture, possession and use of nuclear weapons and provides pathways for their eventual elimination. It not only prohibits nuclear weapons, it also requires the provision of aid to victims and environmental remediation. The World Council of Churches (WCC) is among the many groups and governments that have worked toward this development in international law for more than six years.
The Treaty on the Prohibition of Nuclear Weapons will enter into force 90 days after 50 countries have ratified it, the final step after signature. Already three nations – the Holy See, Thailand and Guyana – ratified the treaty on the same day as it was opened for signature.
WCC general secretary Rev. Dr Olav Fykse Tveit expressed thanksgiving for the treaty and its signatories. "By signing the treaty today, these nations have taken a lead in protecting all our countries and the planet that is our home," he said, adding that he urged national leaders to quickly ratify as well as sign the treaty. "This new treaty has to potential to save millions of lives, and creation itself, from the most destructive and indiscriminate weapons ever developed by human beings," he said.
Dr Emily Welty, Vice-Moderator of the WCC's Commission of the Churches on International Affairs, attended the treaty's opening and signing ceremony. "This treaty represents the moral courage of the international community – and an active partnership between a wide range of civil society organizations and governments – to condemn one of the most horrific and morally indefensible weapons of our time," Dr Welty observed. "We commit ourselves to continuing to work for a world free of the threat of nuclear weapons."
For the WCC, this is a major landmark on the long path since the 1983 WCC Assembly denounced the production, deployment and use of nuclear weapons as a crime against humanity. The WCC called explicitly for a ban treaty at its 2013 Assembly in South Korea. "We vowed there to live in ways that protect life and creation, not in fear, protected by nuclear weapons," said Tveit. "Our moral imperative against nuclear weapons is clear and categorical.
WCC expresses support for Swedish ban on nuclear weapons(WCC press release of 19 September 2017)
Banning nuclear weapons, 122 governments take leadership where nuclear powers have failed (WCC press release of 8 July 2017)
Emily Welty: tide of hope for a world free from nuclear weapons