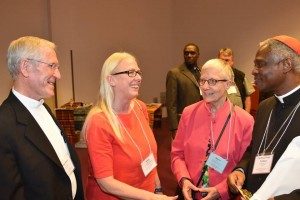 Rome Conference affirms central role of Gospel nonviolence
Participants of the Nonviolence and Just Peace gathering held in Rome from 11-13 April 2016 issued an appeal to the Catholic Church to Re-Commit to the Centrality of Gospel Nonviolence .
The gathering was co-convened by Pax Christi International, the Pontifical Council for Justice and Peace, International Union of Superior Generals (women) and Union of Superior Generals ( men) and other Catholic peacemakers, academics and theologians. Valerie Flessati, Chris Cole and Pat Gaffney attended on behalf of Pax Christi British Section.
The following document was affirmed by the participants:
Download here FINAL-Document-of-the-Rome-Conference
Click here for more information on the work of Pax Christi UK