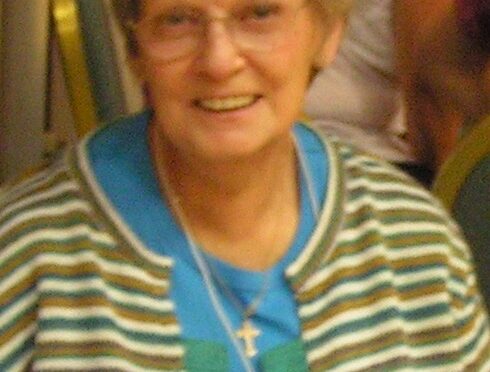 Rest in Peace Maureen
It is with great sadness that I write of my memories of Maureen Matthews who passed away last weekend.
The words that I wrote on her retirement as NJPN Administer in December 2007 provide a brief picture of her years of commitment to the network and still serve as a reminder of all her efforts on our behalf.
Through all the challenges the network has faced over the past few years we have been greatly supported and often 'carried' by the skill, commitment and enthusiasm of Maureen Matthews as Administrator of NJPN, a position she has filled very successfully for eleven years.
Maureen has worked to coordinate the preparation for each of the last 11 NJPN Conferences and her administrative and organisational skills have contributed greatly to the success of Conference.
Maureen has been responsible for editing and producing our newsletter a huge task the extent of which we may not fully appreciate.
Maureen has established and continues to develop an email link group through which members can receive regular updates on a range of issues relating to justice and peace.
In addition to the regular administrative tasks relating to NJPN meetings and events Maureen has given much of her time to creating valuable resources for NJPN. She has produced a range of cards, posters, bookmarks, banners and flags all which have been a source of income for NJPN as well as visually enhancing our gatherings.
Maureen has represented NJPN at a European level and has established many international links.
Over the past few months Maureen has been working to develop the NJPN website, a huge commitment which she has undertaken with great enthusiasm and we can already see the result of all her efforts
As Maureen retires from her role as Administrator we thank her for her absolute belief in the need for a National Justice and Peace Network and for all her dedication to the task of ensuring that we continue to grow as a network and be as we are called to be.
Maureen had been very unwell for a number of years but her involvement with justice and peace never wavered. She was unable to attend the NJPN conference in 2019 but was determined to be present this year and was one of the first to return her booking form. She had a keen eye for detail and was most particular when hanging the rainbow drapes on the stage and in attempting to do the same last year I remember saying 'this wouldn't do for Maureen'
Maureen had also been a member of the J&P Commission in Nottingham diocese, making a journey of up to 2 hours in order to attend meetings. She was also active in her own community, bringing together different faith and secular groups as chair of the local environment group MESS (Marple, Mellor and Marple Bridge Energy Saving Strategy)
In September 2019 Maureen wrote:
On a Sunday afternoon of torrential rain in late September 290 people turned up for "Climate Crisis in Marple" The event staged by the local environment group MESS was seen as a prelude to a bigger event in 2020.
The afternoon was introduced by young people from the local high school and Sixth Form College and there was a speaker from the Tyndall Climate Research Centre in Manchester. Following a question and answer session there were some twenty stalls from local organizations such as the Green Party; Friends of the Earth; Red Cross Recycling; a LED lighting business; Walk//Ride Marple and many more. A food stall produced some very tempting non-meat samples which proved very popular. The afternoon continued with local people explaining their own initiatives and encouraging everyone to make their own 'pledges' to alter some aspect of their lives for the coming year
An Art Competition was held for the local primary schools and the high school. The entries were amazing with the young people showing their involvement and understanding of the climate issue. Some of the entries were displayed around Marple during the following month.
Following the success of this event MESS is planning a "Climate and Environmental Festival from 19—27 September next year. This will include sessions on Food, Gardening, Clothes, Films Transport and a Repair café etc. The theme is 'Action for Life in Marple' and it is hoped that what is achieved this year will be celebrated and encouraged going forward from 2020.
The last time I spoke to Maureen before the lockdown, she was so excited about the planned festival, this coming autumn.
It was Maureen who introduced me to the beautiful coastline of Northumberland when she invited me to stay with her for a few days and with her I paid my first visit to Lindisfarne. It was early December and Maureen had warned me that it would be very cold, she was so right, we had to spend our evenings thawing out by drinking Lindisfarne sloe gin in front of a warm fire.
Maureen and I travelled together to a number of NJPN meetings around the country; she said she enjoyed the company whilst driving. We completed our initial teacher training at Digby Stuart and although our paths did not really cross at the time, we shared stories of our time there. A few years ago we happened to be driving passed the main entrance and persuaded security to let us go in and have a walk around and reminisce, I must say her experience seemed to have been much more lively than mine.
There are many who will have known Maureen much more closely than I did but I have only happy memories of shared experiences and meals at both of our homes. What I can say is that she was totally committed to NJPN and she felt that our network should strive to be the 'go to place', the 'one stop shop' for justice and peace.
Whilst with Maureen on Lindisfarne I picked up a prayer card with the following blessing and I offer it now for Maureen, for David and her family.
To the prayers of our Island Saints we commend you. May God's angels watch around you to protect you. May the Holy Spirit guide and strengthen you for all that lies ahead. May Christ Jesus befriend you with his compassion and peace.
Rest in peace Maureen.
Anne Peacey