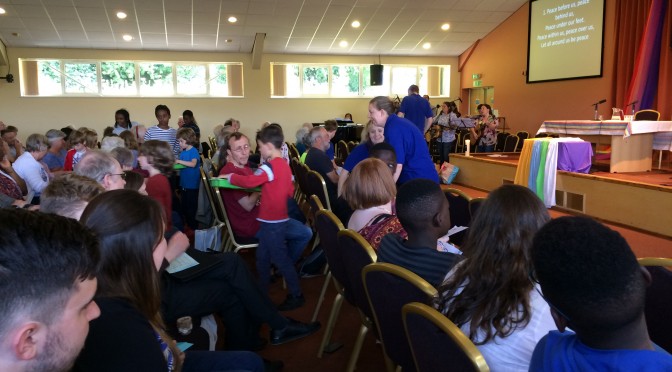 'Working together' key message from NJPN Conference 2016
Around 250 adults and young people gathered in Derbyshire for the 38th annual Swanwick Justice and Peace conference this last weekend.
When the conference planning group first met some 18 months ago it could not possibly have realised just how relevant the theme of the conference would be. When so many in our communities feel disenfranchised and disengaged from the political process we feel anger and frustration with our political system.
Over the course of the weekend there was an opportunity to look carefully at our current situation, reflecting, praying and celebrating both liturgically and socially.
Key speaker on the Friday evening, Jon Cruddas spoke of the sense of 'bewilderment and vulnerability' felt by so many in our society and the need to ask deeper questions in a community that appears without soul and preoccupied with money, seeming to have lost its way. We must use 'memory and knowledge' and challenged NJPN by stating that networks within the Churches are well placed to raise deeper questions as we consider 'what is justice'
Jon believes that justice is concerned with striving for a more 'virtuous' model of society, in which the essential elements of compassion, wisdom, integrity, humility, prudence and righteousness are all important
At a moment of crisis we must we must reflect on our tradition and history, re-discovering our roots. We must ask 'what is it that will enable all to live a 'good' life' Jon Cruddas Believes that 'modern politics exiles parts of our humanity' and that as people of faith 'hope must dominate fear'
He concluded by stating that we must not leave it to the politicians.
Jenny Sinclair, founder and director of Together for the Common Good, emphasised the importance of 'right relationships' the need for working together and keeping 'channels of conversations/dialogue open, working with, not doing to'
Jenny reinforced Jon Cruddas' belief that we, as Church, have a huge role to play but we must be 'an outward facing Church – in street, office, business and not contained within the pews.
Key themes from Jenny's presentation included those of trust, reconciliation, common good thinking and togetherness. She feels that we must resist political ideology and that as Christians the Gospel requires that we seek a world in which the human person thrives in relationship with others and with God.
We are called to be agents for change, for the common good and in order to achieve this common good we must keep open channels of communication.
This process can only begin when we engage in conversations with those who might be termed 'hostile allies' recognising a 'mutuality' accepting that it is in my interest that others thrive. When such situations occur Jenny believes that we engage in 'common good thinking' and that in order to effect change our actions must have a much broader base.
Jenny is convinced that relationship building is key, that we must listen then reflect, resisting the urge to rush into action.
She emphasised, as did Jon Cruddas, that we must root ourselves in our tradition and our spirituality. We are not inviting others to 'come inside and be like us' but going out and engaging with others in the reality of their situation.
Jenny feels strongly that we become an informed and active laity, working with members of the clergy in a culture of encounter.
Polly Jones, head policy and campaigns at Global justice Now, stated that 'trade is at the top of the political agenda' and believes that the common good is watered down by trade negotiations. Trade bills are negotiated and managed to maximise profit for companies involved and Polly emphasised the impact of the current Trans-Atlantic Trade and investment Partnership (TTIP) and the Investor-state dispute settlement (ISDS) whereby large companies are able to take court action against Governments when they feel profits are compromised.
Polly states that the common good is being 'watered down' as a result of trade negotiations and that companies are profiting out of austerity.
She maintains that growth alone is not enough, there must be corporate responsibility but a system of voluntary regulation has not proved to be successful.
Polly believes in the power of faith organisations and that faith groups need to use their strengths to exert influence across the political spectrum.
Conference attendees were urged to campaign for fairer trade regulations which would work for the benefit of all, not the few and consider how we encourage 'grassroots' involvement.
We must engage in discussion with our MEP's with regard to TTIP as well as with the
Comprehensive Economic and Trade Agreement (CETA) and find ways of holding those in positions of authority, whether in business or politics to account.
In common with Jon Cruddas and Jenny Sinclair, Polly Jones emphasised the need to find our allies and to work together, ensuring that we win the arguments, for the good of all people.
Takura Gwatinyanya, programme manager with Caritas Harare, Zimbabwe, spoke from his own experience of working to empower communities and foster the common good in the developing world.
He spoke about the challenges of working for democracy in a situation where life expectancy is short, where there is a lack of water and because of climate change a shortage of food in areas of crop failure.
As a result many were really struggling to access the basic necessities for survival. Poor sanitation continues to be problematic and typhoid and other diseases affect so many children under the age of 5 years.
The impact of HIV and AIDS means that many children are being robbed of their childhood and education because they have the responsibility of caring for parents and grandparents.
He emphasised that the focus of Caritas is on working for the common good and this is the vision that informs his work, working in partnership with local communities on issues relating to environment, education and health as well as promoting the engagement of women, rather than with direct political action.
Caritas Harare cannot begin to meet all the needs but is called as indeed we all are, to address the needs of the most vulnerable.
Over the next few weeks look out for further conference reports, including from the workshops, providing information and suggestions for practical action.

For more information: