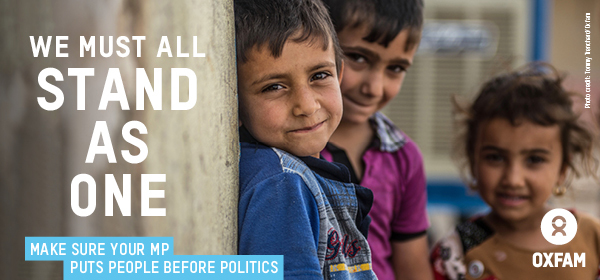 *** NJPN Action of the Week *** Oxfam: EDM on Refugees
The global refugee crisis has now seen more than 65 million people driven from their homes by violence and conflict. Your MP can make sure that our new Prime Minister, Theresa May, puts people's lives before politics.

No matter how we all voted in the EU referendum – you and I know that the UK is a fair, decent and tolerant society at its very heart. I'm sure, like me, you've been horrified by the surge in hate crime we've seen on our own streets, and that doesn't represent the country we know and love.
You just have to look at the amazing support for our Stand As One campaign: tens of thousands of you have already signed our petition, urging the UK government to do what it takes to protect the lives of refugees.

Now it's your MP's turn to step up and take action. They can sign an Early Day Motion (a petition specifically for MPs) that urges the new Prime Minister, Theresa May, to attend the UN Summit on Refugees and Migrants in September, with firm commitments to tackle the crisis. In doing so, your MP can stand up for the basic rights of all people on the move – from those who have made the UK their home, to the millions worldwide who have been forced to flee conflict, poverty or disaster.
Send a message to your MP now>