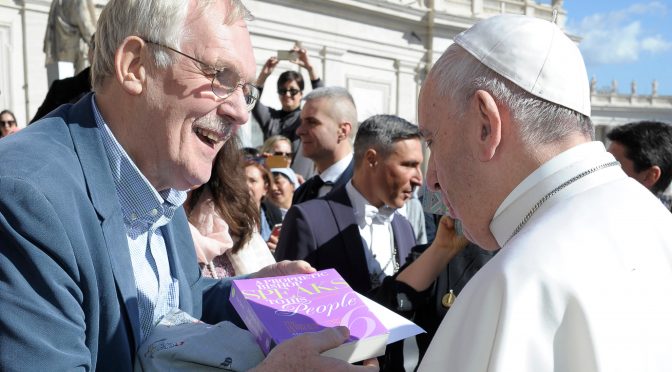 Speaking Personally: Julian Filochowski
In the soon to be published Summer edition of the NJPN newsletter, Julian Filochowski reflects on his commitment to and passion for working for justice and peace.
Where do you think your commitment to justice and peace comes from?
Being part of the 'Sodality of Our Lady' (a precursor of Christian Life Communities) at my Jesuit grammar school in Leeds, I was introduced to See-Judge-Act. There I discovered social action as integral to Catholic faith and I became 'an activist' – a badge I still wear proudly. At University in the 60s, 'God is Love' and the text of 1 John 4: 20 became engraved on my soul. Paul VI's Populorum Progressio, characterised by the Wall Street Journal as 'souped-up Marxism', had a significant impact on me. And somehow an emerging awareness of the so-called underdeveloped world led me to voluntary service in Guatemala with CIIR. This changed me profoundly.
Seeing the desperate poverty and malnutrition in the indigenous Mayan communities and witnessing the gross injustice in their miserable conditions on the coffee estates and sugar plantations hit me in the guts. It not only evoked compassion but I began to understand that aid projects and volunteering were simply not enough. Genuine love, to be meaningful, had to be effective. Effective love in the context of the Third World required the pursuit of justice together with the empowerment of the poor communities themselves to secure their human dignity and fundamental rights. I had inadvertently stumbled upon social analysis. I embraced Paulo Freire's conscientisation methodology as a critical key to change, and the newly-emerging liberation theology as an intellectual anchor.
In 1973, I joined CIIR's London team working on development education and human rights. I dallied with – and rejected – far left politics. I stood for Parliament in 1979 as a Labour candidate and lost my deposit. In CIIR, and subsequently in CAFOD, I encountered literally dozens of inspiring figures from every corner of the world, working for God's kingdom – tackling poverty and struggling for justice. My own commitment matured. But the process of discernment is never done!
What for you are the most important areas of concern today?
Leaving aside the failed neoliberal economic model that drives globalisation, the accelerating inequality in Britain, and the colossal challenges surrounding migration and refugees, I look at my own direct involvements.
I work with others through the Romero Trust to try to embed into our Church life and ecclesial culture 'a faith that does justice' in the style of Pope Francis. This is principally through seeking the recognition of Oscar Romero as a saint of the universal Church, a model Christian and an ecumenical icon who embodied in his ministry and martyrdom an option for the poor, a commitment to non-violence and a profound spirituality.
I collaborate with the Guyana Region of the Jesuits in the promotion of Pan Amazon ecclesial responses to the destruction of the environment, the impoverishment of the indigenous peoples and the violations of their rights by mining companies, mega development schemes and even public authorities.
I am part of an informal interagency grouping looking at how the justice, peace and social service charisms can helpfully be fostered amongst the next generations and what resources or initiatives might assist them to flourish.
What sustains you in your commitment?
My faith in God – that is God's solemn promise that the evil b**tards of this world will NOT have the last word. One of my two personal mottos is 'Non illegitimis carborundum'.
The witness and the indomitable spirit of Oscar Romero; and the integrity, courage and dedication of other contemporary iconic figures like Maria Julia Hernandez, Helder Camara, Maura O'Donohue, Denis Hurley, and Mildred Nevile. They give me strength and hope – and in the darker moments they revive my drooping spirits!
Crucially, my companions on this faith and justice journey; we support, energise and occasionally carry one another.
What are your hopes for a Church like ours for the 21st century?
"In the beginning was the Word…." For me it's the word 'compassion'. Pope Francis continually highlights the word 'mercy' as the hallmark of the true Church. My prayer is that the whole Church will be seen to embrace that word of compassion and mercy and live it. Right teaching (orthodoxy) without right action (orthopraxis) is empty and void – as Pope Benedict once remarked.
My second motto is 'Honourably Catholic – Honourably Gay'. There has been a gradual positive shift in the Church's attitude to lesbian, gay and trans people. But there is still a long way to go. The medical and scientific world has virtually unanimously accepted that homosexuality is a naturally-occurring, non-pathological minority variant on the human condition appearing regularly in the population. Once it is accepted that it is not a voluntarily chosen perversion and gay people are not simply defective heterosexuals to be "cured", then the Natural Law leads to different conclusions from the presuppositions that form the basis of the Church's current official teaching. But changed teaching will be the last stage – just as in the case of the divorced and remarried.
However, changed understandings, changed attitudes, changed language, changed pastoral practice are beginning to happen – and should be happening everywhere. LGBT people still suffer violence, open discrimination, bullying in schools and elsewhere, and high suicide rates – not to mention imprisonment and even capital punishment in a handful of countries – not just Chechnya. So, there is a real justice issue here – and sadly, too often, it is the elephant in the room at progressive Christian gatherings.
An end to the hateful diatribes from Taliban Catholics in the blogosphere would be a welcome blessing. We yearn for unity in the Church but not uniformity: we are many flames – but one single fire. Together we constitute that 'travelling wandering race', the rambling shambling pilgrim People of God. Laus Deo Semper.