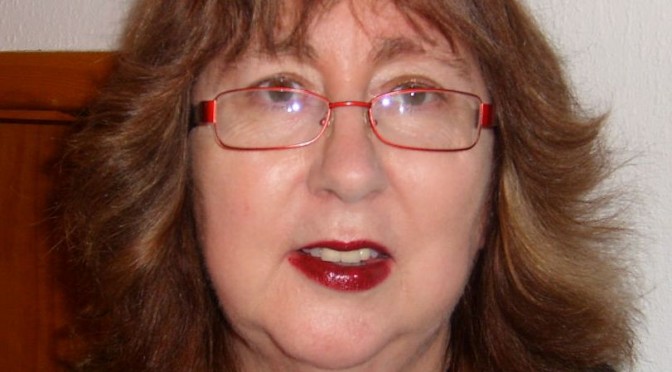 Speaking Personally: Anne O'Connor
Where do you think your commitment to justice and peace comes from?
 
One of my first year modules at university was modern American history. I was deeply moved by the gross injustices highlighted by the Civil Rights Movement. Segregation in South Africa was high on the agenda too and I joined the Anti-Apartheid Movement. Thereafter, with a growing family, my sole involvement was buying Fair Trade coffee from a stand at church. But the seed was sown – years later I became a Traidcraft Key Contact. 
 
We moved to Greater Manchester in 1984. The first week in our new parish something extraordinary happened: a stranger turned round after Mass and asked me to help form a J&P group! We were all novices but quickly learnt. I offered to put together a regular news sheet for parishioners.  I later took this to a diocesan J&P meeting and was invited to edit the fledgling Shrewsbury Diocese newsletter, The Daily Pressure, eventually joining with Liverpool under the new name MouthPeace. In 2006 fellow commission member Marian Thompson became editor, freeing up my time for writing/presenting resources for schools, Confirmation and parish J&P groups. 
 
In June 2012 our new Bishop announced the enforced redundancy of all diocesan commission paid workers. Commission members sub-divided the workload of our former Co-ordinator to keep J&P afloat. I took over the monthly e-bulletin to ensure a point of contact for parish groups. In August 2013 most of us, myself included, received letters terminating our involvement. I was approached by NJPN to join their media team and now produce a monthly e-bulletin for five dioceses in the North West.
 
What for you are the most important areas of concern today?
 
The disbanding of J&P Commissions and compulsory redundancies of workers is a worry. Wherever cuts are made for financial reasons J&P seems to be the first casualty, despite its broad range of issues being crucial, not just for ourselves but for generations to come.
 
It sickens me that the UK government proudly promotes the sale of arms to oppressive regimes yet ignores the link with situations that force desperate people to risk everything by fleeing their homelands. No refugee chooses this path lightly. As the Somali poet Warsan Shire says: 'no one leaves home unless home is the mouth of a shark.' 
 
Today the richest 1% of people own more than the rest of world combined. This cannot be right. UK Government policies penalise the very poorest, for example the draconian bedroom tax and proposed changes to the tax credit system. For many food banks are essential for day-to-day living, but this merely papers over the cracks and fails to get to the heart of the problem. Rather than targeting the poor, why not introduce legislation to recoup money from companies who dodge UK tax by using off-shore accounts?
 
What sustains you in your commitment?
 
I believe there is good in everyone. For us to live in harmony with our fellow men and women, and with the world God has created for our stewardship, we must strive towards the common good. Margaret Thatcher once declared: 'there is no such thing as society.' On the contrary – through caring social interaction we harness what is best in humankind. When we put the needs of others before our own we are living the gospel message. I see many small acts of kindness by ordinary people that give hope for the future.
 
In recent years there's been an encouraging rise in 'people power' through marches, letter writing and online petitions. Governments and corporations are taking notice of public opinion and modifying their policies accordingly.
 
The power of forgiveness inspires me. The Forgiveness Project www.theforgivenessproject.com and the initiative set up for victims of crime in England and Wales, Why Me? www.why-me.org bring together victims and perpetrators to aid understanding. Forgiveness is central to Jesus' teachings. If we sincerely forgive seventy times seven times (Matthew 18: 22) we can experience peace in our hearts. 
 
I'm encouraged by the success of Hope not Hate www.hopenothate.org.uk challenging the rise of extremism in the UK. Building bridges between different faith communities, celebrating what we have in common, is essential to achieving peace. In my home town, Altrincham, we have a thriving Inter Faith group that enables different congregations to socialise and discover more about each other. 
 
What are your hopes for a Church like ours for the 21st Century?
 
The Church is in a time of flux: an ageing and diminishing priestly population; dwindling congregations; challenges to long-held views. Whilst some see this as a cause for concern I think it provides an opportunity for the Spirit to revitalise the Church in a new and exciting way. To facilitate change priests and people alike must heed the signs of the times and respond wisely. We need a fuller collaboration between clergy and laity, appreciating the many gifts lay people offer; the acceptance of married men to the priesthood; a greater respect for women so we will no longer be second class. Women make up more than half the congregation yet, although the glass ceiling has been broken in many areas, we still live in the shadows within the Church. True equality will only be achieved when women are admitted to the diaconate and ultimately to the priesthood.
 
We also need a heartfelt and lasting commitment to young people. At present little is done to encourage and inspire them and they see no relevance in church-going. This must change if the Church is to survive. Whilst many teenagers feel a strong sense of social justice, their enthusiasm and gifts are under-used in parish life. J&P can play a key role in Confirmation preparation leading to involvement in the local community and the wider world.
 
Above all, I pray for a Church where everyone feels welcome: an open, accepting, non-judgemental Church with a place at the table for all.
 
Anne O'Connor has been involved in Justice and Peace as a lay volunteer since 1984. In addition to producing newsletters and e-bulletins she has written drama, poetry, action sheets, Stations of the Cross and a J&P based Confirmation Programme for young people, plus seasonal material and prayer reflections for adult groups. She is a regular contributor to the NJPN column in the The Universe.