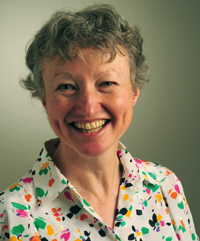 Alison Gelder – Speaking Personally
My commitment to justice and peace began in the nineties when we were living in Cambridge. We hosted a prayer group in our house that was part of something called the Movement for Faith and Justice Today. We spent time in prayer and reflection together trying to develop and live a justice spirituality. This left me with a life-long commitment to justice and peace as a key part of living out my faith – and started me off in homelessness work.
Working where I do the most important areas for me are to do with homelessness and housing need. The vision of Housing Justice is that everyone has a home that truly meets their needs and I am committed to helping to make that happen. However we are in the midst of a crisis where homes are increasingly unaffordable and changes to the welfare system are daily forcing people into homelessness. And the situation is even worse for destitute migrants and asylum seekers who have no recourse to public funds. We need to use our resources as individuals, parishes and as the institutional Church to bring about change.
The contact I have with people who are homeless and with people who are volunteering to help them is vital in sustaining my commitment. But I also need the joy and love I experience through prayer and in the Eucharist – and the support, encouragement and sometimes challenges I receive from my friends and colleagues in the Justice and Peace movement.
My hope is for a Church where all are welcome and all can experience the love of God, for a Church where justice and peace is integral to the life and worship of every parish. The big question remains how to bring this about…
Alison Gelder has been chief executive of Housing Justice since 2003 but has been involved in homelessness and justice and peace work since the nineties. She is also a member of the Archbishop of Southwark's advisory committee on justice, peace and the integrity of creation.
'Speaking Personally' is a regular feature of the NJPN Newsletter.
The above article is published in the forthcoming Summer edition