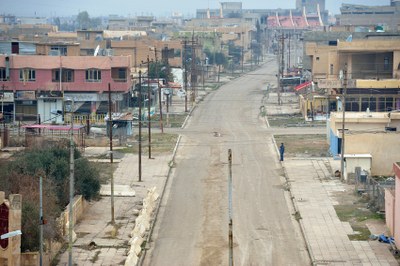 WCC general secretary joins UN dialogue on interreligious peace
World Council of Churches (WCC) general secretary Rev. Dr Olav Fykse Tveit joined other speakers at a side event of the 34th session of the UN Human Rights Council on 7 March. The speakers, which also included Metropolitan Hilarion, chairman of the Department of External Church Relations for the Russian Orthodox Church, addressed the topic of "Mutual Respect and Peaceful Coexistence as a Condition of Interreligious Peace and Stability: Supporting Christians and Other Communities."
Tveit noted that, in respecting one another's identities and faith, people are also called to respect each others's basic needs. In many parts of the world, where Christians and others are suffering from persecution and violence, this is not the case.
"This is a reality that we all have to deal with in a responsible manner," he said, and meeting together to share ideas and mutual respect is one important approach. At the event, speakers represented many faith groups from across the world.
In some countries, we have seen grave conflict but now we have a new opportunity to address issues of injustice in a comprehensive and collaborative way, Tveit said. It will take international support and collaboration to bring a sense of security to different faith groups in countries such as Iraq and Syria.
"I don't want to call them minorities," Tveit said. "They belong in these countries. It is their home."
The right to believe in God the way you want, and practice a faith the way you believe is a basic human right, Tveit noted. "It's connected to the need for protection, for social security, for water, for food, for everything that is basic to our human lives."
Citizenship – an equal citizenship – is a necessary, sustainable solution for peacebuilding, he continued. "We cannot categorize one another and give some rights to others and other rights to others."
He shared the WCC's vision for a pilgrimage of justice and peace, and urged continued work together in the future. "We cannot secure human rights and the justice we need without real peace," he said.