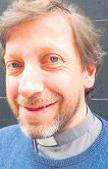 NJPN Comment in the Catholic Universe: Fr.Rob Esdaile- Giving up my clothes for Lent
I was attracted by an email I received some weeks ago inviting me to take up the 'Six Items Challenge'.
It came from campaign group 'Labour Behind the Label', which works to protect workers' rights in the global garments industry.
They invited me to limit my wardrobe to just six items of outer clothing for six weeks, beginning on Ash Wednesday. How about that for a Lenten exercise?
Read more here: NJPN comment