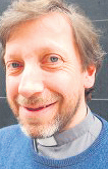 NJPN Column in the Catholic Universe: Fr Rob Esdaile – Build Back Different
Next weekend (June 11-13) 'Global Britain' is hosting the G7 Summit in Cornwall. The gathering is not truly global, because invitations are limited to the richest industrialised nations, all of them in the Northern hemisphere (although our government has extended an invitation to India, Korea and Australia). However, it does offer a major opportunity for action, both on the economic crisis caused by the Covid-19 pandemic and on the ecological crisis which is the subject of the COP26 conference in Glasgow in November.
The slogan 'Build Back Better' has been floating around for the last six months or more. But the real question is: What do you mean by 'better'? If you mean more of the same model of economic growth based on ever-increasing consumption, the same dependence on fossil fuels, the same throw-away culture which is clogging the oceans with single use plastics, the same supply chains that offshore our own carbon-footprint and keep so many living below the breadline – then all that will ensue is more deforestation, more exploitation of the poorest, more global warming, more turmoil.
'Better' has to mean 'more sustainable' – both ecologically (keeping below that 1.5 degree rise in global temperatures and reversing habitat destruction) and politically (creating more stable and just societies). 'Better' has to mean the redirection of the resources now devoted to war preparations to the fight to save our planet from our own worst actions.
'Better' has to mean greater global solidarity in facing both this and future pandemics: the swift supply of vaccines to the poorest nations (not least because, to coin a phrase, 'no one is safe until all are safe'); and release of those same nations from the debts built up in fighting the virus and in shoring up their own economies.
But above all, 'better' has to be about having a renewed vision of the kind of world we seek and a willingness to campaign for it. That demands a Church with a better understanding of what it means to be a disciple of Jesus, a seeker after God's Kingdom and divine justice (Mt 6.33). We Catholics have to be at the heart of the struggle to 'build back better', insisting that better means different – a kinder, cleaner, fairer Britain, global in our bridge-building where others would build walls.
Fr Rob Esdaile is parish priest of Our Lady of Lourdes, Thames Ditton.
23-25 July 2021 National Justice and Peace Network (NJPN) Conference: https://www.justice-and-peace.org.uk/conference/