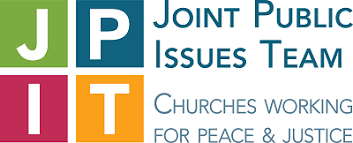 Latest news from Joint Public Issues Team
Welcome to the March Newsletter from The Joint Public Issues Team, and particularly to those who have recently signed up to the JPIT Newsletter at the Christian Resources Exhibition North (more below).
Spring is becoming more apparent (for those in the UK at least) and with it the signs of hope for new life. Our Living Lent community has been flourishing too, with almost 500 people receiving our daily mailshot of inspiration and encouragement. Over 200 people are part of our Living Lent Facebook groups, sharing tips and stories. You can find out how to join in with these below.