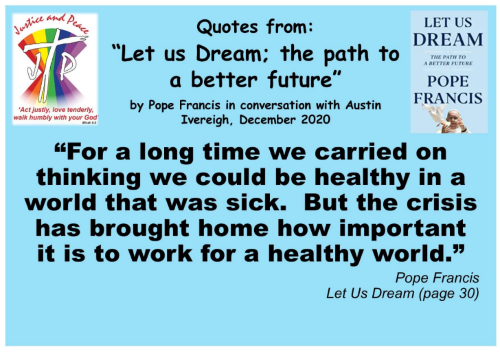 NJPN E-Bulletin 7 March 2021
Dear Friends
Our latest bulletin is now available to download and we would love it if you forwarded this e-bulletin on to people you know who share a passion for justice and peace issues. Even better, please encourage people to sign up to the e-bulletin. it would be great to engage even more people in our desire to see the world a better place to live in.
The next bulletin will be out in three weeks' time – Palm Sunday, the 28th March. It will also be the same day that the clocks go forward and we find ourselves in British Summertime (let's hope!). If you have something you particularly want shared, please send it to:-
ebulletin@justice-and-peace.org.uk. This email address is usually only monitored when the e-bulletin is being prepared, so please do not expect an immediate answer when sending anything.
God bless,
Sharon.