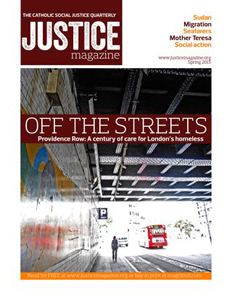 Justice Magazine – Enthusiastic Volunteers Needed
Justice Magazine, the Catholic social justice quarterly, currently has 8,000 readers for its online edition, and is going into print this autumn.
Editor Lee Siggs is now looking to set up an enthusiastic and passionate team of volunteers to help get the title distributed across the country.
Lee receives fantastic support from freelance contributors and agencies around the world in producing the magazine editorially, including Apostleship of the Sea, Cafod, Progressio, and Trocaire.
The print edition will increase awareness of the title which offers a unique platform for people to find out more about the good work being done in the Church.
"We'll be keeping the print edition, like the online magazine, free for readers and supported by advertising," Lee said.
"We'd really like to hear from people interested in advertising with us both in print and online as well as from groups, parishes and NJPN members keen to help with distribution in their area.
"We'd also be delighted to hear from schools and colleges who'd like to sign up to receive copies – it really is a fantastic resource for teachers to help their pupils explore the Catholic Social Teaching elements of the RE curriculum in a vibrant and contemporary  way."
Work is currently ongoing on an Android and iOS app which will be available this summer and will include access to the latest issue of Justice as well as back issues.
To contact Lee, email editor@justicemagazine.org or call 07806 946697. To sign up for an alert when new issues are released or information about the new app, please visit https://tinyurl.com/justicealerts or for free downloadable back issues visit www.justicemagazine.org and click on 'read'.