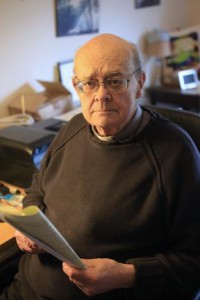 Award for anti – poverty campaigner
The Rev. Paul Nicolson, the founder of the Zacchaeus 2000 Trust and Taxpayers Against Poverty has been granted a national award by the Social Policy Association for his tireless work in walking alongside and being a voice for those living in poverty and bound by debt.
Rev. Nicholson was the keynote speaker at the NJPN AGM in May 2012, shortly after the founding of Tax Payers Against Poverty and shared some personal reflections.
He began by saying "I am still learning how to apply the Gospel to the political, social and economic circumstances in which I have worked for around 40 years."
He went on to remind us of the words taken from the first letter of St. John – "Our love is not just words or mere talk but something real and active"
For Rev. Nicholson 'Real and active includes giving money, befriending debtors in poverty, shedding light on the misery of poverty in wealthy nations, campaigning for improvements and proposing amendments to reduce and relieve it as relevant bills go through Parliament.'
In receiving his award Rev. Nicholson emphasised the fact that 'In recent years employed, unemployed, disabled and single mothers who claim social security and welfare benefits have suffered from extreme cuts in their income following a financial crisis for which they bear no responsibility'
NJPN offers congratulations and good wishes to Rev. Nicholson.