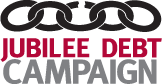 *** NJPN Action of the Week *** Africa's Debt Crisis
Jubilee Debt Campaign is asking for an urgent response to this latest campaign.
An audit into secret loans to Mozambique has been released, and it has raised huge questions about the role played by London-based banks.
Please write to your MP now to ask them to support new regulations on debt transparency.
To support the campaign click here: