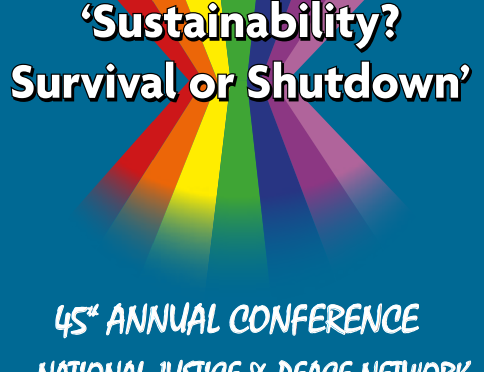 Sustainability ? Survival or Shutdown
Sustainability ? Survival or Shutdown
Spaces available for 45th Annual NJPN Conference, Hayes, Swanwick from Friday 21 – Sunday 23 July.
The subtitle Survival or Shutdown presents each of us with the reality of the current state of our planet, the major challenges we face and the informed choices we must all make so that those who come after us may experience the beauty of creation, living secure and sustainable lives.
Following Conferences 2021 and 2022, Conference 2023 aims to continue the process of journeying in hope as we try to discern a more sustainable path to the future for all Creation. Brian O'Toole, Presentation Order's Justice Desk will be introducing the Sustainable Development Goals,
'Adopted by all United Nations Member States in 2015, provides a shared blueprint for peace and prosperity for people and the planet, now and into the future. At its heart are the 17 Sustainable Development Goals (SDGs), which are an urgent call for action by all countries – developed and developing – in a global partnership. They recognize that ending poverty and other deprivations must go hand-in-hand with strategies that improve health and education, reduce inequality, and spur economic growth – all while tackling climate change and working to preserve our oceans and forests'.
Making links with Laudato Si and CST. Christine Allen, CAFOD, will be a keynote speaker on Saturday morning. There will also be a range of workshops and the Just Fair. (Look out for more details on each of the workshops)
On the Sunday morning we will gather the strands that have emerged over the weekend and begin the work of discerning emerging themes by listening, considering what shared actions could be taken individually and collectively, then producing and sharing a statement as a guide for all until the next conference in 2024.
Anne Peacey 29 May 2023