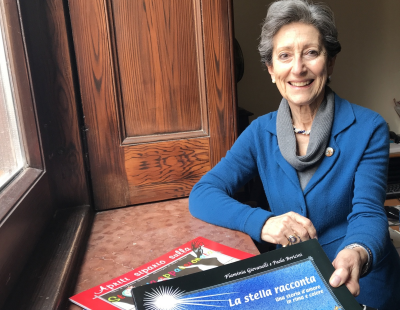 'Women can contribute to a culture of change in the Vatican'
By Phil Kerton
Around 75% of the Vatican's workforce are lay people (approximately 60% male, 15% female), but very, very few are in positions of responsibility. September 2018 saw celebrations of the 43 years of service of one of them: Flaminia Giovanelli. She had reached retirement age earlier in the year – but who was she?
Early Career
During the last decade of the 20th century I had the privilege of joining several meetings organised by the Conference of European Justice and Peace Commissions and of taking part in a seminar on nuclear issues at the Vatican. One consistent figure – discrete, yet influential – was Flaminia, who initially described herself as an archivist for the Pontifical Council of Justice and Peace, which she had joined in 1974, and was later spoken of more accurately as a researcher.
From the early days of her career, she was highly regarded for an ability to manage and tackle the thorniest of issues closely following matters of development, poverty and work, from the perspective of the social teaching of the Church.
Promotion
Subsequently, in 2010, Pope Benedict named her as Under-Secretary of the Pontifical Council – the third highest executive post after the President (then Cardinal Roger Etchegaray) and Secretary (Msgr Diarmuid Martin, now Archbishop of Dublin). This made her one of the two most senior laywomen in the Roman Curia and, in 2017, she became Under-Secretary of the Dicastery for Promoting Integral Human Development, and was commonly spoken of as the most influential lay workers in the Curia.
She is an expert on economics and political science, with a profound knowledge of ethical, work-related, economic, and financial issues and has been able to make decisive contributions to the Holy See's input on questions of integral development, poverty and social cohesion at international institutions such as the UN, the EU, the Council of Europe and the World Labour Organisation.
Qualities
A native of Rome, Flaminia spent her childhood in Brussels, attending l'Ecole Européenne de Bruxelles, and earned a degree in political science from the Università degli Studi of Rome. Subsequently, she earned diplomas in library science from the Vatican School of Library Science and in religious studies from the Gregorian Pontifical University. She is fluent in Italian, French, Spanish and English.
Her work
Her decades of work required attention to every emergency, inequality or economic or social crisis, so that she could sensitise public opinion, promote discussion and reflection in support of the weakest members of society, and press for interventions at every level, making sure that solidarity did not merely remain a value codified in official acts.
She said that the main purpose of her service to the Pontifical Council Iustitia et Pax entailed a duty to report aberrations from the Church's social doctrine, as was said by the Council Fathers in Gaudium et Spes. In an institution such as a Vatican Dicastery she could especially call attention to problems that she judged to be the most serious at any given moment. Hers, she says, was a feminine evaluation, particularly sensitive to matters such as the violation of the rights of children or women.
Flaminia organised various conferences on behalf of the Pontifical Council, including: The Second World Congress of Ecclesial Organizations "Working for Justice and Peace" (November 2007); a seminar entitled "Politics: a demanding form of charity" (June 2008); the seminar of Experts before the Doha Conference on "Financing for Development" (November 2008); and "Life, Family, and Development: The Role of Women in the Promotion of Human Rights" (March 2009).
She published articles on the Social Doctrine of the Church in La Società, the bulletin of the Cardinal Van Thuân International Observatory, as well as in L' Osservatore Romano and in other scientific journals devoted to such topics. She has papers around the world and, on a different tack, she published a series of short stories for children, A star tells a love story, in rhyme and colour.
Her achievements were recognised in 2014 by the award of a doctorate in Human Letters from the De Sales University in Pennsylvania. Her wide range of interests have been maintained in more recent years, still making prominent contributions from the Vatican. In June this year, she joined Cardinal Peter Turkson to present plans for the Vatican's then pending conference, Saving the Common Home and the Future of Life on Earth, highlighting the importance of recognising that what we do now is what will decide the fate of future generations.
In November 2017 she presented 'Obstacles and Opportunities to Integral Human Development' to the 4th Catholic-Muslim Forum, held in Berkeley, USA. And on questions of war and peace, Pat Gaffney, Director of Pax Christi UK, says, "I am so sorry that Flaminina is going, she has been a huge help to us in the Pax Christi / Catholic Nonviolence Initiative, helping to make things happen."
Her departure leaves the Dicastery without one of its most accomplished practitioners of the art of discerning and naming injustices and their root causes, and of conveying the need for appropriate prayer and action to make a difference in the long term, alongside the necessary works of charity to alleviate the immediate problems.
It also reduces the slowly growing number of lay people occupying senior positions at the Vatican, with a proportionally greater impact upon the smaller number of lay women in that category.
Women's role
Flaminia has several times been interviewed about the place and role of women in the Vatican. She says that women are good educators for peace and that they complement the vision of men. "Women represent the practical side of theories. Thanks to the theories we can get to the practical side of things and make the best out of the results."
She emphasises in particular their decisive contribution in terms of spiritual accompaniment, working with delicate issues, teaching in seminaries, where women have been successful and where they are ready to have more responsibilities within the Church.
After a priest gives absolution, that does not mean everything is over: it takes time to overcome the problem and it is at this moment that spiritual direction is of great help.
She also recognises that women can contribute to a culture of change in the Vatican, especially in the idea of "openness". She says, "This culture of hospitality is a more feminine than masculine culture: we have more patience with people, we are more open."
Flaminia has been pleased with the increased appointments of lay people to important posts in the Vatican, commenting also that "there are also nuns who are very prepared, who could very well also … have responsibilities." She suggests the slowness in the promotion of women results partly from fear, which, she says, "does not come only from the clergy, but also from the laity." She notes that "In Africa, there are nuns as secretaries of episcopal conferences, and here there is also some way to go." And she supports the idea of women teachers in seminaries, for "a more complete formation of young priests," she says.
"But if one wishes to speak of the appreciation of women in our [Vatican] offices, I would say that in my work I have always had the feeling that my ideas were taken into account precisely because they were the ideas of a woman, complementary, hence necessary for an objective judgement of the matters on which I was questioned. "
The future for lay staff?
Most diplomats accredited to the Holy See make sure that they send a decent proportion of female staff to meetings. At least one of them has wondered aloud, "When will we see job descriptions and person descriptions attached to vacant posts and candidates invited for interview, rather arrive as the result of a request for someone to be sent by from a country that has not recently supplied a priest to work in the Curia?" (A system that obviously contributes to a tendency to the errors of clericalism that Pope Francis has identified!)
American Kerry Robertson, Church fund-raiser par excellence, has pointed out that, "Many laywomen and men have leadership and management expertise, financial acumen, problem solving capability, and exceptional skill in communications, technology, human resource development, and strategic planning." Adding, "that many have studied and teach theology, ethics, pastoral planning, canon law and ecclesiology." In her view, there has never been a more urgent time for the Church to avail itself of such lay expertise and perspectives. "Failure to recognize and enlist the talents of laity in decision making processes is a failure of stewardship of the Church's greatest asset: its people."
We can but hope that the structural Church will recognise that Flaminia's achievements and contributions to the mission of the Church confirm that those who don't discern a vocation to the priesthood or religious life can undertake meaningful lay leadership, "not as second-class contributors to the Church's mission, but as vital partners in its flourishing," to again quote Kerry Robinson.
Photo: "Flaminia Giovanelli / Fair Use"