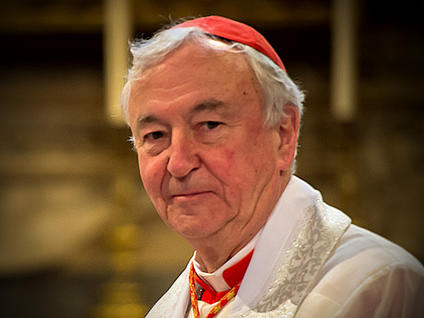 Post-EU Referendum statement from the Cardinal
"We need to grasp again our basic sense of purpose"
Cardinal Nichols, Archbishop of Westminster and President of the Catholic Bishops' Conference of England and Wales has released a statement after the EU Referendum saying that racism and hatred of others is "something we must not tolerate"
28/06/2016 1:05 pm
Statement reads:
"We all need to reflect on what has been a tumultuous few days and ponder what is needed now.
"Firstly, I am very conscious of the Polish community in Hammersmith or of people confronted by banners in Newcastle. This upsurge of racism, of hatred towards others is something we must not tolerate. We have to say this is simply not acceptable in a humane society and it should never be provoked or promoted.
"Racism and hatred must never be tolerated, but there is no need for fear. We always place our lives at the foot of the cross; in the hands of Jesus. We have an important job in defining the horizon against which we live and that is where the profound values we seek to embody really come to life: when we see ourselves living in the presence of God, living with that transcendent horizon. If that transcendent dimension is simply put to one side, if there is no space to see ourselves under the providence of God and living consciously in the presence of God, then society closes in on itself and becomes much more self-centred and much more divided.
"I am sure that every leader needs to reflect on our failure to listen and to give voice to those who feel voiceless.
"We need to grasp again our basic sense of purpose; in living together, creating together and fashioning a society. It is that sense of purpose that we may have lost focus of; believing that the purpose of politics is to manipulate power; the purpose of business is simply to make profit for a few. This challenge has been with us for a while now.
"Our purpose must be our common good, the good of all with no one excluded. Our politicians have to deal with their issues, businessmen and banks with their issues, but the fundamental purpose is to build a world in which strength is used for service and no one is excluded.
"The great challenge for those leading the nation now is to speak for everyone. If a victory in a referendum remains a point of division, then we become weaker and weaker as a nation and not play a part in the international scene tackling the world's problems, which are great and challenging."
Bishop Declan Lang, Bishop of Clifton and Chairman of the International Affairs Dept of the Catholic Bishops' Conference of England and Wales added:
"Every one of us has a responsibility to tackle hate crime and reassure minority communities that they are welcome here.
Regardless of the UK's political future we must never let hatred or bigotry poison our society. Migrants from Europe and further afield have consistently made an overwhelming contribution to the good of our country. They quite rightly call this country their home and have a right to live free from intimidation.
I urge the Catholic community actively to oppose the appalling prejudice we have seen in recent days."
+Declan Lang
for more information click here