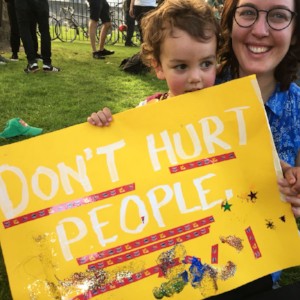 Quaker faith in action: Responding to the killings in Gaza
Many people, including Quakers, took to the streets of London on Tuesday 15 May, Nakba Day, to join an emergency demonstration in solidarity with people in Gaza. The day before, Quakers in Britain had issued a statement calling on the UK government to accept its responsibility and to take concerted action for peace.
Friends can contact their MPs or MSPs, asking them to urge the Israeli government to stop its illegal use of live gunfire on unarmed civilians, and to call for an end to arms sales to Israel. Click here to read the template letter that the Ecumenical Accompaniment Programme in Israel and Palestine (EAPPI) team have prepared:
Also on 15 May, QPSW's Peace and Disarmament team, along with other members of the First World War Peace Forum, organised an event to markInternational Conscientious Objectors' Day. The event took place in Tavistock Square in London. There were songs, speeches, silence and flowers laid, as we remembered conscientious objectors from many countries over many years.
Yearly Meeting 2018 is over, and, as summer approaches the calendar has filled up with a number of exciting events, training courses and opportunities for action. There is something for everyone! We hope to see some of you on the dates listed below.
Thank you for your continuing interest in Quaker Peace & Social Witness. If you would like further updates relating to a specific area of work, just go to 'adjust your preferences' in at the end of the email.
In Friendship,
The Quaker Peace & Social Witness team
www.quaker.org.uk/our-work
qpsw@quaker.org.uk