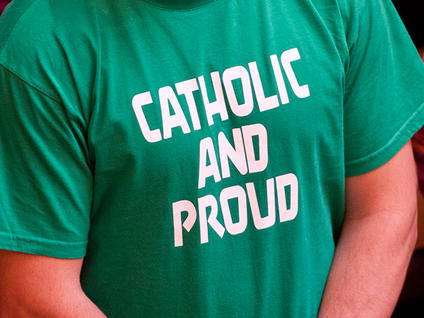 In response to Pope Francis' soon-to-be opened worldwide Year of Mercy, the Catholic Bishops in England and Wales have issued a joint Pastoral Letter to be read out at every Mass in both countries on Home Mission Sunday, 20 September.
Signed on behalf of all 33 members of the Catholic Bishops' Conference of England and Wales, by Cardinal Vincent Nicholas, President, and Archbishop Peter Smith, Vice President, the letter focusses on the importance of proclaiming God's Mercy.
It reads:
"Today is Home Mission Sunday and to emphasise its importance this pastoral letter comes to you on behalf of all the Bishops of England and Wales together… Our response to Pope Francis is to make the task of proclaiming God's mercy the priority in our own efforts. This we will strive to do most especially during the Jubilee Year of Mercy, established by Pope Francis, beginning this December. He writes: 'How much I desire that the year to come will be steeped in mercy, so that we can go out to every man and woman, bringing the goodness and tenderness of God! May the balm of mercy reach everyone.' (Misericordiae Vultus 5) So we ask your help. Together let us Proclaim God's Mercy."
The Bishops add that the key to effective proclamation is "…to be ready to live constantly in the presence of God, knowing that God never takes his eyes off us, not to catch us out, but because he loves us so much. When we are constantly aware of that loving gaze which is upon us, and of the mercy and encouragement that flows our way, then we are enabled to look on others in the same way."
"These are the foundations of evangelisation. On them, other steps can be built: the opportunity to speak about our faith; the expression of that love in programmes of action towards those most in need; a loving care for those who have been hurt by life and hurt within the Church, for whom any return to the practice of their faith is particularly difficult. In this effort for evangelisation we seek out ways of accompanying others, through friendship, through prayer, through conversation, so that they sense in us the welcome that God most certainly extends to them. Our efforts need not be complicated or heroic. As Our Blessed Lady reminds us, through our humble efforts the Lord can do great things!"
Free resources about Home Mission Sunday have been sent to every parish and religious house in England and Wales; parishes are also invited to take a second collection on this day to support the work of evangelisation nationally.
As part of the Bishops' ongoing Proclaim '15 initiative, 20 September coincides too with the online launch of new evangelisation resources, which include: a film archive of talks and workshops that were delivered at the National Evangelisation Conference in Birmingham in July, along with a series of 11 themed sheets for download offering a breadth of simple 'tips' to help parishes serve others and grow.