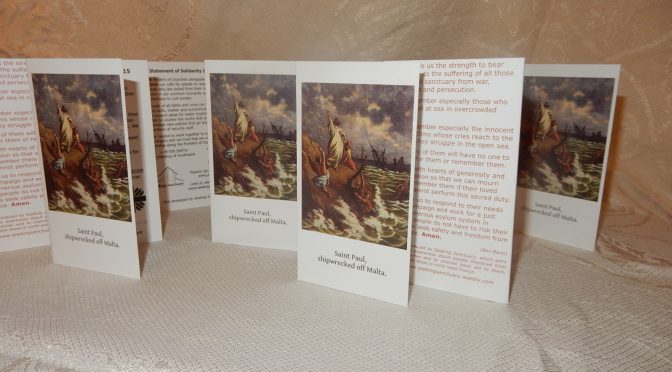 Seeking Sanctuary Update for July / August
'Every migrant has a name, a face and a story' (Pope Francis)
It's timely to recall this quote from Pope Francis, not least because it encapsulates the individuality of all those who seek sanctuary from desperate poverty or from wars and persecution. All too often we talk about 'migrants and asylum seekers' as if they were all the same and we forget the individual stories behind their plight.
ARRIVALS IN EUROPE
And the plight grows ever worse. In this summer season when better weather makes crossing in a flimsy boat just a little less dangerous, the narrative of intolerance becomes even more strident, both here and elsewhere in Europe. Italy which has taken in more than 53,000 migrants since the end of the year rightly calls on other EU nations to play their part. In the current febrile climate of UK politics when politicians vie in trying show their strong-arm credentials over rights of entry to Britain, the migrants with whom we are concerned with have little hope unless the pressure is kept up by people such as yourselves: our three hundred email contacts and those with whom you share our news.
HARDER TIMES AROUND CALAIS
Migrants get seen as an inconvenience, even a threat to our security, as fewer and fewer leaders in positions of authority are prepared to defend their interests. In Northern France the numbers become ever greater and the migrants there are playing a desperate game of cat and mouse with the authorities as the feeding arrangements are barely tolerated .and where the authorities' approach is to simply confiscate basic supplies and try to deter refugees with pepper spray and tear-gas.
In the wake of a scathing report from the Human Rights Ombudsman, eleven refugee support organisations won an appeal to a Tribunal in Lille on 27 June, demanding that police should stop hindering aid distributions and that a minimum of sources of drinking water, adequate toilets and access to showers be provided in order to avoid "the risk of inhuman and degrading treatment". The Town Council had done nothing after 10 days, saying that it is appealing against the judgement and that the Mayor would rather go to prison than give way to the Court. The Minister of the Interior is also leading also leading an appeal.
THE SCENE IN PARIS
Phil was in Paris for a few days near the start of June and managed to go out to the complex road and tram junction where the motorway from Lille and Calais terminates at Porte de La Chapelle. A dreary landscape bordered by the orbital motorway and a rail embankment. Migrants were gathering there to sleep on the streets at night and wander them by day, hoping to be among the few who get into one of the dozen or so places becoming vacant each day the extremely inadequate official shelter. The capacity is 400 and about 200 newcomers arrive each week. Some two months ago in the 33rd such clearance since 2015, 1610 people were removed from the streets to various locations. A new police clearance on 7 July moved over 2700 to temporary accommodation such as school gymnasiums that have become vacant for the holiday season.
Like most other European states, France has yet to organise a sustainable, dignified and humane solution to the challenge posed by those escaping desperate conditions in the Middle East and Africa. A purported "new" strategy was outlined on 12th July, and includes the creation of 4,000 places of shelter for asylum seekers in 2018, followed by another 3,500 in 2019. An additional 5,000 places will be created to help refugees to access housing, with the appointment of a government commissioner for integration. Alongside these measures, more staff will be employed to cater for the objective of seeing asylum applications processed in six months (against a current period of more than a year for many cases), and to oversee new regulations to ensure the rapid deportation of unsuccessful applicants and deal effectively with people who have been fingerprinted elsewhere. Bills will be proposed in September.
UNACCOMPANIED MINORS – NEW REPORTS
A report "Nobody deserves to live this way" has been issued from an independent UK inquiry into the situation of separated and unaccompanied minors in parts of Europe, sponsored by the Human Trafficking Foundation. This concludes that protecting children on the move is not just an immigration issue but also a matter of child protection and preventing serious and organised crime. The writers point out that there is overwhelming evidence of violence inflicted by the French authorities and the police, whether it be the indiscriminate use of truncheons or the tear gassing of children and their sleeping bags. Renewed effort must be devoted to legal schemes for transfer of young people to the UK, with more transparency in procedures, improved liaison with charities who work with the children, and better dissemination of relevant information in appropriate language and formats. All matters upon which we have commented in the past!
The Human Rights Foundationhas also issued a report describing and condemning routine police violence and use of pepper sprays against sleeping people and their property in Calais – including minors. This received immediate widespread mainstream media comment in France and we can but hope that the mounting pressure will eventually reduce violence.
THINGS THAT WE HAVE DONE
All this is happening now. We need to persuade those around us and those in positions of influence (your MP perhaps?) to let basic humanity transcend whatever politics they carry and dare to start to care about this. And above all we need to stop blaming people who have zero power and stop using dehumanising language.
We helped to prepare videos for Refugee Week, and you can see three of the results here . There are plans to include these in an exhibition in Parliament later this year, and we hope that they will get noticed by some of the MPs who have not visited Calais.
If you are involved with a Faith Community you may be interested in our newly produced prayer cards which focus on the plight of those who have perished on their journeys, the majority lost at sea, including the many children known to have drowned. We are requesting a donation of £5 per 100 and if you are interested please email us for further details. As well as a newly-composed prayer, the cards include a statement of solidarity indicating the themes for action and a note of the link to our newly-added website page listing useful organisations that can help.
ACTION TO BE TAKEN
The various operations in Calais continue to need goods for distribution to the places where they are needed, predominantly by skinny young men and teenagers. The urgent items listed at the start of July are fabric and foil sleeping bags and waterproof carrying covers; trainers and socks (sizes 40-43); waterproof jackets, t-shirts and jogging bottoms (sizes S & M). And all the other items previously requested are still needed – just a little less urgently.
When you have pondered this update and wondered if there can ever be a change of heart among officials and politicians, start finding out about how you can be of practical help. Our new website page listing UK support organisations may provide you with some ideas.
Start donating. Start volunteering. Demand that more imaginative solutions are considered and that children are not allowed to suffer. Start doing something about the situation!
STOP PRESS – 'Migrants are now out of fashion'
This was the comment made by a young volunteer with the Auberge des Migrants to Ben during a visit he made to Calais on Monday. The situation in Calais is now so critical that hundreds of blankets are needed each and every day as the Police use pepper spray on the ones they find, rendering them useless. The Auberge intended to distribute 500 blankets that day and luckily the blankets which Ben brought over from well wishers in England helped to make a difference as there are desperate shortages of much needed goods. listed above. Ben says: 'Migrants are still to be seen in the usual places in and around Calais, but they both look and are more destitute than ever. If conditions in the "Jungle" were bad, their current conditions are much worse. We must continue to advocate for the voiceless victims of war and persecution'.
'Seeking Sanctuary' aims to raise awareness about people displaced from their homes and to channel basic humanitarian assistance from Faith Communities and Community Organisations via partnerships with experienced aid workers. Our special concern is for those who arrive in north-western France, mistakenly expecting a welcome in the UK. Almost all the 8,000+ migrants in Calais in October 2016 were moved away, hopefully to better accommodation. 1616 unaccompanied minors also left, along with hundreds of vulnerable women and children, hoping that claims to stay in the UK or France would be processed. Many judge that they have been let down, and hundreds have returned to sleep rough near Calais and along the coast. The Grande-Synthe camp near Dunkirk burnt down in April 2017, displacing around 1400 people, over 950 of them moved elsewhere, whilst the rest remain nearby, joined by scores of newcomers weekly.
They need food, good counsel and clothes, which are accepted, sorted and distributed by several Calais warehouses, which also supply needs further afield.
Further information from Ben Bano on 07887 651117 or Phil Kerton on 01474 873802.