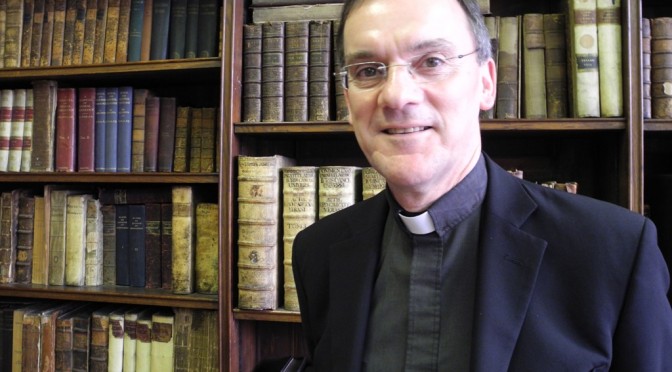 Monday 8 December 2014 will be a red-letter day for the people of the diocese of Salford as Bishop John Arnold is installed as their eleventh Bishop.
John Arnold was born 61 years ago in Sheffield and attended Mylnhurst Convent School before attending Grace Dieu Manor Preparatory School and Ratcliffe College, both schools run by the Institute of Charity (Rosminians). In 1975 he graduated with a law degree from Trinity College, Oxford and completed his legal qualification by being called to the Bar in the Middle Temple in 1976 after studies at the Council of Legal Education. In the autumn of the same year he entered the novitiate of the Institute of Charity (Rosminians), taking simple vows in 1978 before beginning studies at the Gregorian University in Rome. In 1981 he transferred to the Venerable English College and continued his studies for the Diocese of Westminster, completing both a Licence and a Doctorate in Canon Law. He was ordained by Cardinal Basil Hume as a deacon in November 1982 and as a priest in July 1983. With the completion of his studies in Rome, he was appointed to Westminster Cathedral as a chaplain, with responsibilities for the Westminster Hospital in 1985.
In 1989 he was appointed as Sub Administrator of the Cathedral under Canon Oliver Kelly and subsequently under Patrick O'Donoghue, later Bishop of Lancaster. In 1993 he became parish priest of Our Lady of Mount Carmel and St George in Enfield and remained there until 2001, serving also as Promoter of Justice for Cardinal Hume. In 2001 he was appointed as Chancellor and Vicar General by Cardinal Cormac Murphy-O'Connor. During this time he was primarily responsible for planning two consultations within the Diocese on spiritual renewal and forming a vision for the future, in response to Pope John Paul
II's invitation in Novo Millennio Ineunte (At the Beginning of the New Millennium). He was appointed as an Auxiliary Bishop of the Archdiocese of Westminster on 2nd February 2006, with responsibility for the pastoral care of the deaneries of Barnet, Brent, Enfield, Haringey, and Harrow.
During his appointment at the Cathedral, he assisted in the compilation of two books published by Cardinal Hume; Light in the Lord and Towards a Civilisation of Love. Having contributed to AIDS; meeting the Community Challenge, he published The Quality of Mercy: a fresh look at the Sacrament of Reconciliation in 1993
Bishop John is a member of the Bishops' Conference Department for International Affairs; and Chair of CAFOD's Board of Trustee. He is also a Trustee of Caritas Social Action Network which coordinates social action within the Catholic Church in England and Wales.
On hearing of his appointment, Bishop John said: "I accept the appointment as Bishop of Salford with much trepidation but will do all I can to serve the people, priests, and religious of the Church of this Diocese as we all seek to respond to Pope Francis' call to be 'missionary disciples'. I have much to learn in this new experience, after thirty one years of priesthood spent entirely in Westminster. On leaving Westminster I would like to give thanks for all that I have received, most especially from the three Cardinals under whom I have served and the many people from all walks of life who have encouraged me in my ministry. I am very pleased to join with so many others in offering thanks and gratitude to Bishop Terence Brain for his leadership and shepherding of the Diocese with the hope that all the good work may be progressed. And I ask for prayers, that this diocesan family may journey together with determination and vision in faith and good works. I ask your prayers."