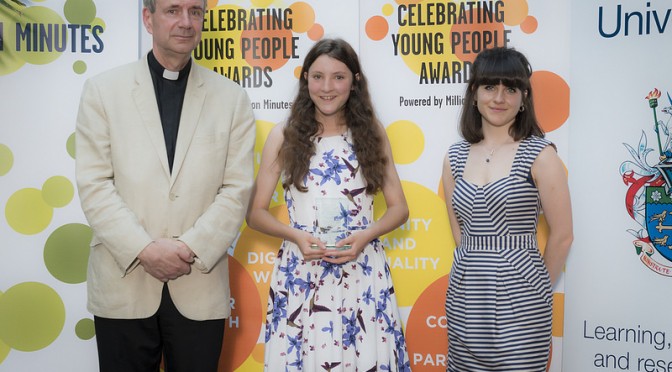 Celebrating Young people's Awards: 19 July
Anna Marshall, a Year 7 student at St Mary's Catholic High School, Chesterfield, was honoured for her community and charity work in her school and parish, St Hugh of Lincoln. The awards ceremony was held in London's Barbican Centre and was hosted by national youth charity, Million Minutes in partnership with St Mary's University, Twickenham.
"I feel really privileged and amazed to have met so many other people doing good things!"said Anna. Nominations and Awards were made in eight categories, including the Dorothy Day Community Award which Anna received. Guest of honour, Cardinal Vincent Nichols gave the Pope Francis award on the night, the overall youth award.
"Young people all too often get a bad name," said Danny Curtin, Director of Million Minutes. "But they are amazing. Million Minutes is all about giving a voice to the young people that get overlooked – we're delighted to have held these awards to celebrate all that young people are and all that they give to our world."
The awards are intended to celebrate and inspire young people to get more involved in social action projects, as well as helping everyone to reflect on how Catholic Social Teaching is being lived out in the everyday of our lives. The awards have been organised and promoted by Million Minutes, a charity that supports projects helping young people to transform their lives and put Catholic Social Teaching into practice.
Anne Peacey, who nominated Anna and is chair of the National Justice and Peace Network and also a parishioner of St Hugh's, said "I am delighted that Anna has received a Dorothy Day Award because she has demonstrated the potential to be an outstanding and inspirational young leader of the future working for justice, peace and the integrity of creation, in her parish, youth group, school and local community. Anna also played violin and sang as part of the music group that contributed so richly to the liturgy at the recent NJPN Swanwick conference. I firmly believe that her gifts, talents and commitment should be affirmed and encouraged. I am so proud that I was able to nominate Anna for this award."
Photograph: Sarah Mckenna-Ayres/St Mary's.
Million Minutes is a national youth charity that supports projects that transform young people's lives.
for more information click here