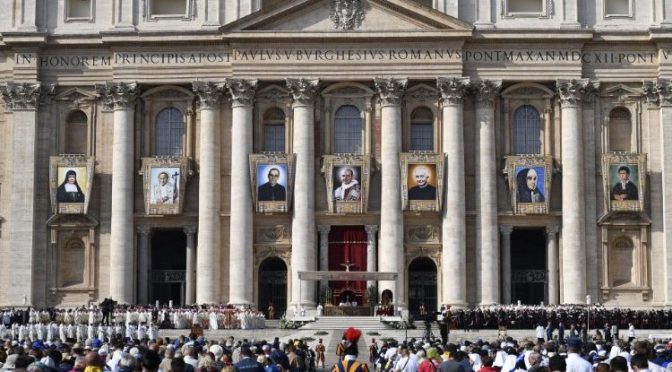 Canonisation of Oscar Romero: Patron Saint of NJPN
Pope Francis: "Saints put today's word into practice in their lives",
Pope Francis on Sunday declared Pope Paul VI and murdered Salvadoran bishop Oscar Romero Saints. The canonization Mass, during which five other lesser-known blessed were also elevated to sainthood, took place in St. Peter's Square.
In a ceremony before tens of thousands of people, Pope Francis canonized Pope Paul VI, Archbishop Oscar Romero, Francesco Spinelli, Vincenzo Romano, Maria Caterina Kasper, Nazaria Ignazia of Saint Teresa of Jesus, and Nunzio Sulprizio.
"All these saints, he said, in different contexts, put today's word into practice in their lives, without Luke warmness, without calculation, with the passion to risk everything and to leave it all behind. May the Lord help us to imitate their example"
EN