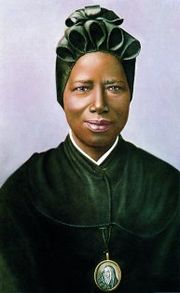 Sr. Josephine Bakhita – Patron saint of human trafficking and slavery
On February 8, the Catholic Church commemorates the life of St. Josephine Bakhita, a Canossian Sister who was kidnapped and sold into slavery in Sudan when young. The trauma of Bakhita's abduction caused her to forget her own name. The name by which she has become known is a mixture of the name given by her slave traders (bakhita, Arabic for 'lucky') and the Christian name, Josephine, she took in adulthood.
In 1883, Bakhita was bought and taken to Italy. She made her profession in 1896 with the Canossians and was assigned to a convent where she spent the remaining 45 years of her life dedicated to assisting her community and teaching others to love God.
Bakhita's last years were marked by pain and sickness, but she retained her cheerfulness. If asked how she was, she always answered smiling 'as the Master desires'.
St. Josephine was beatified in 1992 and canonized shortly after in October 2000 by Pope John Paul II. She is the first person to be canonized from Sudan and is the patron saint of the country and the patron saint of victims of human slavery and trafficking.
The Global Slavery Index estimates there are 45 million slaves today in the world and Government estimates in the UK suggest that there may be up to 15,000 men, women and children at present who are victims of human trafficking and slavery.
The Medaille Trust is a charity founded by Religious – by Priests, Sisters and Brothers from many Orders and Congregations to help men, women and their children who have been rescued from the evil of human trafficking. the work of The Medaille Trust is to care for and empower victims of human trafficking in the UK and to raise awareness of the plight of those who are enslaved and exploited in the trafficking industry, and campaign on their behalf. Working together with victims we rebuild lives and offer brighter futures. The charity does this by providing safe housing for both male and female victims of human trafficking and their dependents in 10 houses located across the breadth of England.
Pope John Paul II said "The trade in human persons constitutes a shocking offence against human dignity and a grave violation of fundamental human rights." Pope Francis says that trafficking is "an open wound on the body of contemporary society."
Please pray with St Josephine Bakhita for the men women and children who are victims of trafficking and slavery still.
The Trust has Diocesan representatives available to deliver talks and presentations in schools, parishes and to other groups about the work of the Medaille Trust in combatting human trafficking and slavery in the UK and globally.
Please contact Medaille Trust at:
mailto:enquiries@medaille-trust.org.uk
For more information about the Medaille trust:
https://www.medaille-trust.org.uk/