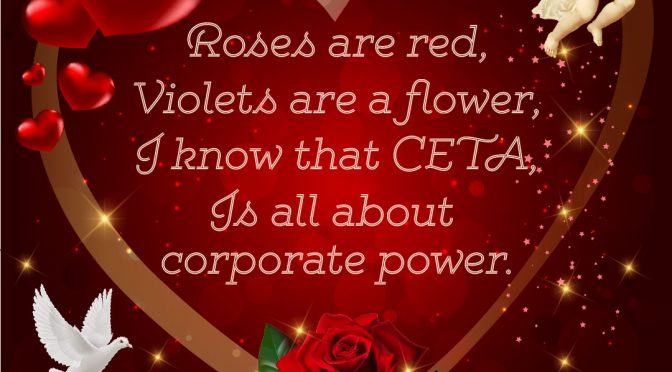 Global Justice Now: Send Valentine's message to Labour MEPs
On 15 February members of the European parliament (MEPs) will be voting yes or no to the implementation of CETA, the toxic trade deal between Canada and the EU.
CETA will allow corporations to sue our government for making decisions that might harm their problem. It will also threaten environmental protection and worker's rights.
On Valentine's Day, the Labour MEPs are meeting to decide how they will vote the following day. With your help we can convince the undecided MEPs to take a stand against CETA.
CETA is an undemocratic deal from start to finish. While trade unions, civil society organisations and even our MPs and MEPs have been largely excluded from negotiations on CETA, big business has enjoyed significant influence throughout the process.
If CETA passes in the European parliament, it will be 'provisionally implemented', which means that even if the UK parliament votes against CETA, we'd still be part of the deal for at least 2 years. If the deal is fully approved, however, leaving the deal could take up to 20 years.
Last year more than three million people from all over the EU signed a petition to stop TTIP and CETA. It's clear that that people do not want deals like TTIP and CETA. And if we work together, we can stop CETA.
Not on Twitter? No problem:
take action by emailing your MEPs