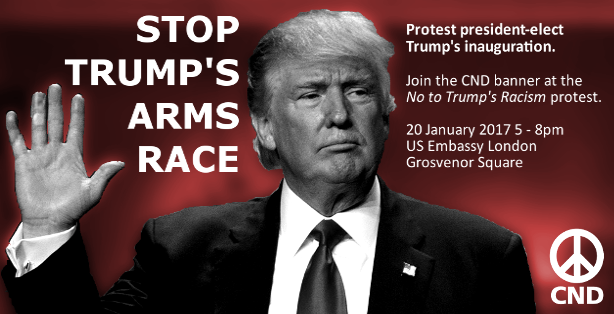 CND: Stop Trumps Nuclear Arms Race
The last few weeks have seen international tensions grow as US President-elect Donald Trump has made an alarming series of statements, the consequences of which could spell nuclear annihilation.
Breaking with decades of US presidential policy, Trump has spoken in favour of nuclear proliferation – suggesting that more countries should develop their own nuclear weapons. Referring to Japan and South Korea countering North Korea, he said he's fine about a nuclear arms race in East Asia. There can be few more dangerous developments.
But dangerous statements and actions abound. Before Christmas he said "the United States must greatly strengthen and expand its nuclear capability", and at the end of the year he was reported as saying "let it be an arms race" in a telephone call to the MSNBC presenter Mika Brzezinski.
He has already stated that he wishes to end the nuclear deal with Iran. His decision to end decades of agreement with China by phoning the Taiwanese president Tsai Ing-wen raises the spectre of a conflict too terrible to contemplate.
Our movement must confront this situation as a matter of urgency: the real world effects of this provocative approach to international relations by Britain's main ally – the most powerful military force in the world – can already be felt.
Join us to say Stop Trump's Nuclear Arms Race on the day of the US President-elect's inauguration. We'll be outside the US Embassy in London on 20 January from 5pm.
Up-to-date info about the protest can be found on the CND web site