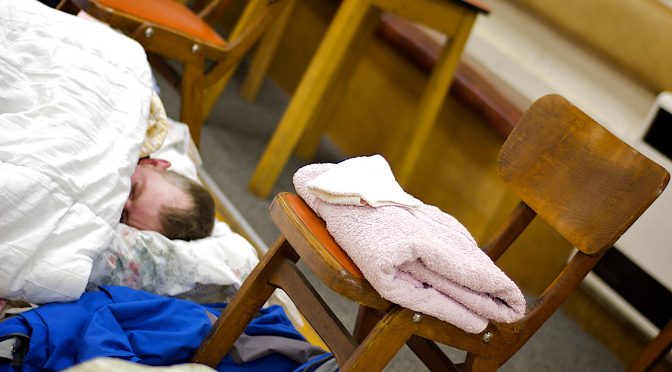 Britain's housing crisis is now a homelessness crisis – Jacob Quagliozzi
It is in the shelter of each other that the people live' according to an old Irish proverb.
At Housing Justice we reflect up on these words and what that means a lot. Our work with rough sleepers, destitute migrants and those in housing need often makes us think about what 'home' really means. To us, it has to be more than shelter, it is about community, relationship and belonging.
2017 was the year in which housing policy in the UK came under the greatest scrutiny and criticism for generations, with the catastrophic scenes of the fire at Grenfell tower scarring the nations memory for many years to come. It was also a year in which many finally admitted that the housing crisis that has plagued Britain for the last decade has become a homelessness crisis.
In recent years at Housing Justice, we have seen this homelessness crisis building to the record levels it has now reached. Last winter 52 night shelters in the Housing Justice Church and Community Night Shelter Network provided emergency accommodation to almost three thousand (2923) people experiencing homelessness. That's an increase of 53% on the previous year's figure (and double the number of people receiving support in 2012). We estimate across the entire national network more than 6000 people will stay in a night shelter this winter. Just two years ago, this figure stood at 3,640.
As demand grows church and community night shelters are undergoing a rapid expansion; two years ago, there were 65 shelters operating in the network. Today, there are 107 projects in the Housing Justice Network. Underpinning this huge rise in guests at night shelters is the significant rise in rough sleepers since 2011, (134%) owing to issues such as welfare reform and the ending of a tenancy in the private rented sector.
Our hosting project too has seen record demand. We match people with a spare room to a destitute migrant, more than 50 guests have been hosted in the last 18 months approximately 10,000 nights of shelter. Asylum seekers with a claim in the system are prohibited by law from working in the UK and a large proportion (in fact all of the guests in our project) are not entitled to claim welfare payments. This is a spurning of human potential and talent, a system the government calls "the Hostile Environment". We pay a small destitution payment of £25 a week to each guest which gives a level of subsistence. We have paid out more than £30,000 in such payments to date.
What I love most about these projects is that they are powered not by corporate donors, government contracts or even by a formalised relationship with church hierarchies. Rather it is the desire to demonstrate God's love for all and a sense of injustice at the social conditions of our brothers and sisters.
This year Housing Justice will redouble our efforts to lead practical efforts to reduce homelessness in all its forms and to address the issues behind housing need. We'll be working with projects and with government around issues such as Universal Credit, the implementation of the Homelessness Reduction Act and campaigning for meaningful change on housing and homelessness policy throughout the year.
2018 must be the year that we all ask ourselves what it is we personally can do to stop this rise in homelessness in the sixth richest economy on Earth.
Every year at the end of January Housing Justice organise Homeless Sunday, a chance for Churches and Christian groups from across the country join together to pray, reflect and plan practical action on homelessness, but also for a united Christian voice to offer solidarity and be a prophetic voice for change. If you missed it this year you could still use the resources to organise an event at any time- see www.housingjustice.org.uk .