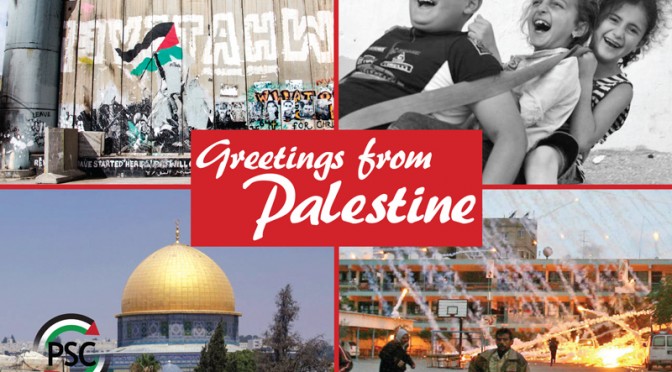 Palestine Solidarity Campaign: Sign the postcard from Palestine!
Did you know that Cabinet Office minister Matthew Hancock went all the way to Jerusalem so he could tell the Israeli Prime Minister in person that the UK Government is curtailing the democratic rights and freedoms of British people to help its Israeli ally?
The UK Government has made a public commitment to Israel that it will try to stop public authorities from taking procurement and investment decisions on ethical grounds. This is to stop them taking action against Israel's illegal settlements in the West Bank.
With each passing month the situation for the Palestinians gets worse. More homes are demolished. More land is expropriated. More settlements are built. Yet our government does next to nothing to help the Palestinians. It's because our government has done so little that the Palestinians are calling for boycott divestment and sanctions against Israel. Now our government is even trying to stop us taking ethical peaceful, action against the government of Israel.
Sign our postcard to the UK Government Minister to tell him:
• The latest Government guidance is against the spirit of democracy, localism and devolution.
• The Government must make it clear that their guidance won't prevent public bodies from refusing to sign contracts with companies involved in human rights abuses, including abuses in illegal Israeli settlements.
• The UK Government must ensure that changes to the local government pension scheme do not prevent pension funds from taking ethical stances.
• It is time for the Government to hold the Israeli Government to account and act to uphold Palestinian human rights.
Palestine Solidarity Campaign: Sign the postcard from Palestine!