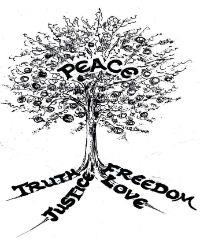 NJPN Conference 2015 – Called to be Prophets of HOPE
On his journey to Calvary, Jesus weeps over Jerusalem. Destruction is coming to the Temple: Israel has failed to recognise 'The things that make for Peace' (Luke 19:42) ; to see the kingdom of God becoming present in Jesus' way of truth, justice, freedom and love. At the NJPN Conference over 300 people met to pray and reflect on the things that make for peace today, and how we might join more fully in Jesus' way of truth, justice, freedom and love.
From 1945 with the dropping of the atom bomb and subsequent arms race we held the capacity for our own destruction. Professor Paul Rogers* with A Century on the Edge: from Cold War to Hot War 1945-2045 took this as his starting point. By 2045 we have to find the wisdom to avoid our own destruction through climate change. We will need to practise HOPE and there are solid reasons for doing so.
For example, 30 years ago there were about 65,000 nuclear weapons and tens of thousands of tons of chemical weapons deployed. 85% of the World's military spending was by NATO and the Warsaw Pact. 2% of that spending could have fed the entire population of the world – an astonishing waste of resources. However by the time the Cold War (mostly) came to an end, weapons had decreased to between 6 and 7,000. Moreover as one prominent Conservative pointed out 'CND have won, because nuclear weapons are now seen as a bad thing'. Campaigning works.
Change also happens in response to particular events: the 'canary in the coal mine' effect. With the discovery of the hole in the ozone layer it only took 4 years from the Montreal convention to phase out CFC's. 30 years later the ozone layer is starting to repair itself. Change is possible. The great smog of London in 1952 killed 4,000 Londoners- and speeded up the Clean Air Act by a decade. Severe weather events like Typhoon Haiyan must be our canary for climate disruption.
Professor Rogers identified LIDISM and neo-liberal economics as great challenges to our urgent task of living peacefully within the bounty of the planet. Lidism is a failure by governments to address problems at core, to maintain control (often by military means) rather than make fundamental changes to the way societies work (cf the 'war on terror', the response to the refugee crisis). Neo-liberal economics have failed to deliver global justice. Huge differences in wealth and poverty are now a transnational phenomenon (eg SE Asia and Brazil) with roughly a 20% / 80% divide, with disparity which has increased during the past 30 years. This leads to anger, resentment and frustrated expectations as education grows and more people recognise their marginalised position. An interesting example of this is Tunisia. Of the 'Arab Spring' countries it the one that has made the most democratic progress, but the 30% graduate unemployment and subsequent bitterness is probably one reason that it has more young people going to join IS than other state in the Middle East.
Climate change is asymmetric (affecting countries least able to cope most severely,) and accelerating. This is a threat to global security that governments are tempted to treat by 'lidism', and that neo-liberal systems with their emphasis on 'small government' have no mechanisms to address. We must resist any claim that there is 'no alternative' to lidism or neo-liberalism. Indeed positive alternatives are already coming into being. For example 950 million people worldwide members of co-operatives. Off grid photovoltaics are growing in sub Saharan Africa. New viable models of the economy are being designed: the New Economics Foundation 'Great Transition Project' feeds in low carbon and greater equality. The Oxford Research group works on sustainable security as an alternative to militarism. Pope Francis' Laudato Si and critical statements on neo liberalism are hugely significant. We need to speed up change, but it IS happening and we can support it.
Our prophetic role is to hold onto the HOPE that change for a peaceful, sustainable, stable and just world is possible, and to model that in the way that we think and speak and act.
The other Conference participants were exactly such inspirational prophets.
Fr Edu Gariguez from the Philippines described his priestly mission as service of the poor, and himself as an 'accidental environmentalist'. In 2012 he was a recipient of the Goldman Environmental Prize for his work in protecting the rights of indigenous peoples against the interests of mining companies.
Lorraine Dinnegan, a London mother whose 14 year old son was a victim of knife crime, has worked to set up the Safe Havens scheme to improve communities and protect other young people.
Fiona Mwashita is a Progressio regional manager in Zimbabwe, empowering women through human rights education and establishing sustainable livelihoods.
Sr.Maire Hayes, a sister of the Congregation of the Holy Spirit, is involved with faith groups working together in Luton to build and maintain social harmony in the community.
Throughout the Conference Martin Poulsom, a Salesian of Don Bosco contributed rich theological commentary and feedback. We met in small groups for a morning and evening session. One participant noted:
"I appreciated the scripture sharing in the morning session. It felt very grounding, whilst the evening session helped capture the thoughts and feelings I had experienced during the day – a sort of examen.
What I valued from the prayer/ reflection process was the opportunity for some quiet reflective space with opportunity to hear and be heard by people I hadn't chosen to chat to. In our group there was a huge variety of contexts and experience represented – all part of the story God is telling."
I do hope you will be able to join us next year
Mary Conway
*Professor Paul Rogers, Peace Studies Department, University of Bradford, has worked in the field of international security, arms control and political violence for over 30 years. He lectures at universities and defence colleges in several countries and has written or edited 26 books, including Global Security and the War on Terror: Elite Power and the Illusion of Control (Routledge, 2008) and Why We're Losing the War on Terror (Polity, 2008). Since October 2001 he has written ORG monthly Briefing Papers on international security and the "war on terror". He is also a regular commentator on global security issues in both the national and international media, and is openDemocracy's International Security Editor.
And if you want to know how Huddersfield vineyards, the battle of Towton and an encounter with the SAS featured, please borrow the audio recording of the Conference!