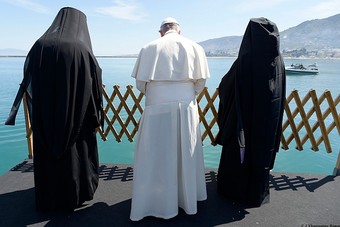 Seeking Sanctuary: Humanitarian needs remain considerable
An update from Seeking Sanctuary
Dear Friends
It's good for any organisation to revisit its aims and mission statement regularly and check that it is still working to the ideals and vision which established it.
Our vision is summarised in the two words of our title: 'Seeking' because this is a consequence of the war and disorder that leads so many innocent people to have to leave their homes and 'Sanctuary' because those who have to flee their homes need a place of welcome and rest. The term 'Sanctuary' transcends technical definitions of 'migrants' and 'asylum seekers' and helps us to realise that all that flee their homes due to the civil wars in Syria and beyond deserve our understanding and support.
We were very struck by the recent visit of the Pope to the island of Lesbos, alongside the Orthodox Patriarchs. As one of the Patriarchs reminded us, it is only through looking into the eyes of someone who has suffered that we are able to see the depth of trauma and suffering that they and their loved ones have experienced. The Pope's gesture of taking three families back to Rome was particularly symbolic.
That is why encounter, listening and accompanying are as important as humanitarian assistance. So many of us who have visited Calais and Dunkirk have been moved by the stories and experiences of those who seek sanctuary in northern France and beyond. It has enabled us to break away from the all too frequent stereotyping to which we are all tempted and see people as the human individuals that they really are. And we and so many others are heartened by the example of solidarity from so many volunteers from the UK – as well as from France and elsewhere – who are prepared to defy the prevailing narrative of intolerance with a narrative of respect and understanding for our fellow human beings.
Nevertheless, humanitarian needs remain considerable, though with slightly different priorities now that winter is over and there seems to be no immediate threat of further expulsions and demolitions. It is important that people ordering or collecting and delivering goods do check on the latest lists produced by the Calaiswarehouses.
Take a good look on the following website to see how you can volunteer to go to Calais for a time to help these groups in their essential work.
Over the last month our campaign has been marked by a call to identify and process the claims of children and young people who are still vulnerable in so many ways in Calais, Dunkirk and beyond. For this reason we have campaigned for the 'Dubs amendment' to the Immigration Bill that is currently passing through Parliament, and we were pleased that after its defeat in the House of Commons it was immediately passed on the following day in the House of Lords with slight changes to its wording. However, our concerns remain. In response to questions about the circumstances of vulnerable children, Ministers and civil servants repeat the litany of good efforts that the UK has promised to better the lot of people in and near Syria and appends a list of agreements that may result from talks with their French counterparts. However, full-time volunteers in the camps very rarely see any practical results emerging from these good intentions.
The Children's Commissioner for England, Anne Longfield, appeared before a House of Lords Committee on 20 April and her evidence included impressions from a visit to Calais. She was struck by a delay in the system, not only in the process but also in the fact that 'there was not the impetus to register children, offer them instant protection and then proactively look at how to get them through the process with some speed. Focus and speed around some of this would be the first thing, looking at where there are children who are potentially able to find legal routes and putting forward a coherent action plan that could resolve that.' Some of the youngsters do not want to talk and be involved with the French authorities, because they do not trust anyone in authority and are very driven to come to the UK. British volunteers, on the other hand, do know the children and have been offering some care, producing a relationship of trust. The Commissioner considers that there are opportunities to build on this and offer a speedy resolution for the children with a likely cost of only around £75,000 – not an immense sum in the great scheme of things! On the same day the French Human Rights Ombudsman [Défenseur des Droits] issued a lengthy and critical report detailing areas where the authorities had failed to act upon earlier recommendations.
Finally, if you visit our website you will find a recently added link to prayers offered at Leros by Pope Francis and his Orthodox brothers and a new list of links to current petitions – including those related to the needs of unaccompanied minors.
With our thanks for your messages of support and appreciation,
Ben + Phil.
About 'Seeking Sanctuary'. There are currently still over 5000 migrants in and around Calais (March 2016) and many more near Dunkirk. 'Seeking Sanctuary' aims to raise awareness about this situation and is organising basic humanitarian assistance through Faith Communities and Community Organisations in partnership with experienced aid agencies such as 'Secours Catholique'.
For further information on how you or your organisation can help, contact Ben Bano on 07887 651117 or Phil Kerton on 01474 873802. To check the latest news, visit our website.